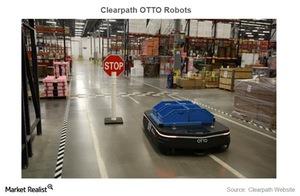 Caterpillar Invests in an Indoor Autonomous Vehicle Startup
By Shannon Black

Updated
Funding Clearpath Robotics
On October 5, the venture capital arms of General Electric (GE) and Caterpillar (CAT), along with a group of other investors, raised $30 million for Clearpath Robotics—a startup focused on the self-driving vehicle concept. However, unlike the Teslas (TSLA) and Ubers of the world, which are deploying these vehicles on city streets, Clearpath Robotics deploys autonomous vehicles on large factory floors to move goods efficiently. A large factory's controlled environment is ideal for large-scale positioning of such vehicles.
Article continues below advertisement
Matt Rendall, Clearpath's CEO and co-founder, said, "Factories operate like small indoor cities, complete with roads, traffic, intersections, and pedestrians. Unlike city streets, a factory floor is a controlled environment, which makes it an ideal place to introduce self-driving vehicles at scale. Companies like Google (GOOG), Tesla and Uber are still testing, whereas our self-driving vehicles are commercially available today." Clearpath will use the raised funds to expand its industrial division known as "OTTO Motors" by hiring more people in sales, marketing, and manufacturing.
Material handling robots market
Clearpath estimates that the self-driving material handling market will be as large as the self-driving passenger vehicles market (XLY) by 2030. It's about $80 billion by 2030. The OTTO division has a significant headstart. The company's OTTO robots are already used by General Electric and Deere & Company (DE) for handling materials. Elsewhere in the industry, automated robots are used to reduce costs and increase efficiency. In 2015, Amazon (AMZN) managed to create $286 million in cost savings by using automated robots in its warehouses.