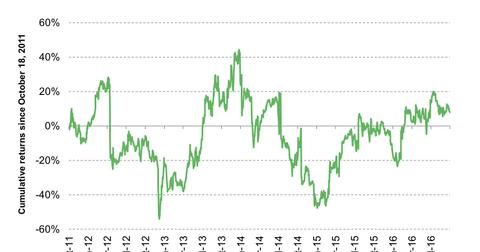 Carl Icahn: Herbalife Is Undervalued
By Sarah Sands

Updated
Carl Icahn on Herbalife
In the October 17, 2016, CNBC interview, Carl Icahn spoke about his investment in Herbalife. Herbalife (HLF) is a nutrition company that mainly develops and sells energy products. Its business model, in which distributors play the main role, focuses on direct selling. The model has set new standards for the personal product industry (XLP).
Icahn's firm, Icahn Enterprises, is the largest investor in Herbalife (HLF). According to the institutional ownership report, Icahn is the first largest investor in Herbalife, with 17 million shares as of June 30, 2016. Credit Suisse (CS) is the fifth largest investor in Herbalife with 4.4 million shares.
The stock is trading at a price-to-earnings multiple of 20.98x. In the last two quarters of 2016, the actual earnings figure beat market expectations. Herbalife's revenue growth is also showing improvement. The company mainly focuses on volume growth.
In the Delivering Alpha Conference on September 13, 2016, Icahn disclosed that he got permission from his company to acquire 35.0% of Herbalife shares. He's trying to get permission to acquire up to 50.0% of the shares.
Article continues below advertisement
According to Icahn, Herbalife is a good personal product company. When asked why he's holding Herbalife after the company has been investigated so many times by the FTC (Federal Trade Commission), he said, "They make good products." He also believes that its business model is a unique model in the market (SPY) (QQQ) and will deliver a good return. The company has provided many jobs to many people.
Icahn is continuing his battle against activist investor Bill Ackman over Herbalife.
Ackman bets against Herbalife
Ackman is the founder and CEO (chief executive officer) of Pershing Square Capital Management. He believes that Herbalife's (HLF) business model isn't a lucrative one. He even called Herbalife an illegal pyramid scheme. He said, "The reality is fraud continues at Herbalife. I can't see any situation which is good for Herbalife." He continues to keep his short position on the stock. Icahn said, "I think Ackman's smart, but I think in this case it's absurd to have a major short position."
On July 15, 2016, Herbalife announced it had reached a $200 million settlement agreement with the FTC, resolving its multiyear investigation of the company and leaving the company's business model unchanged. However, Ackman is continuing his bet against Herbalife, even after the FTC settlement. On August 26, 2016, Herbalife stock fell after Ackman said that Icahn, its leading investor, was trying to sell his stake in the company.
In the next part of this series, we'll take a look at Icahn's view on the Fed.