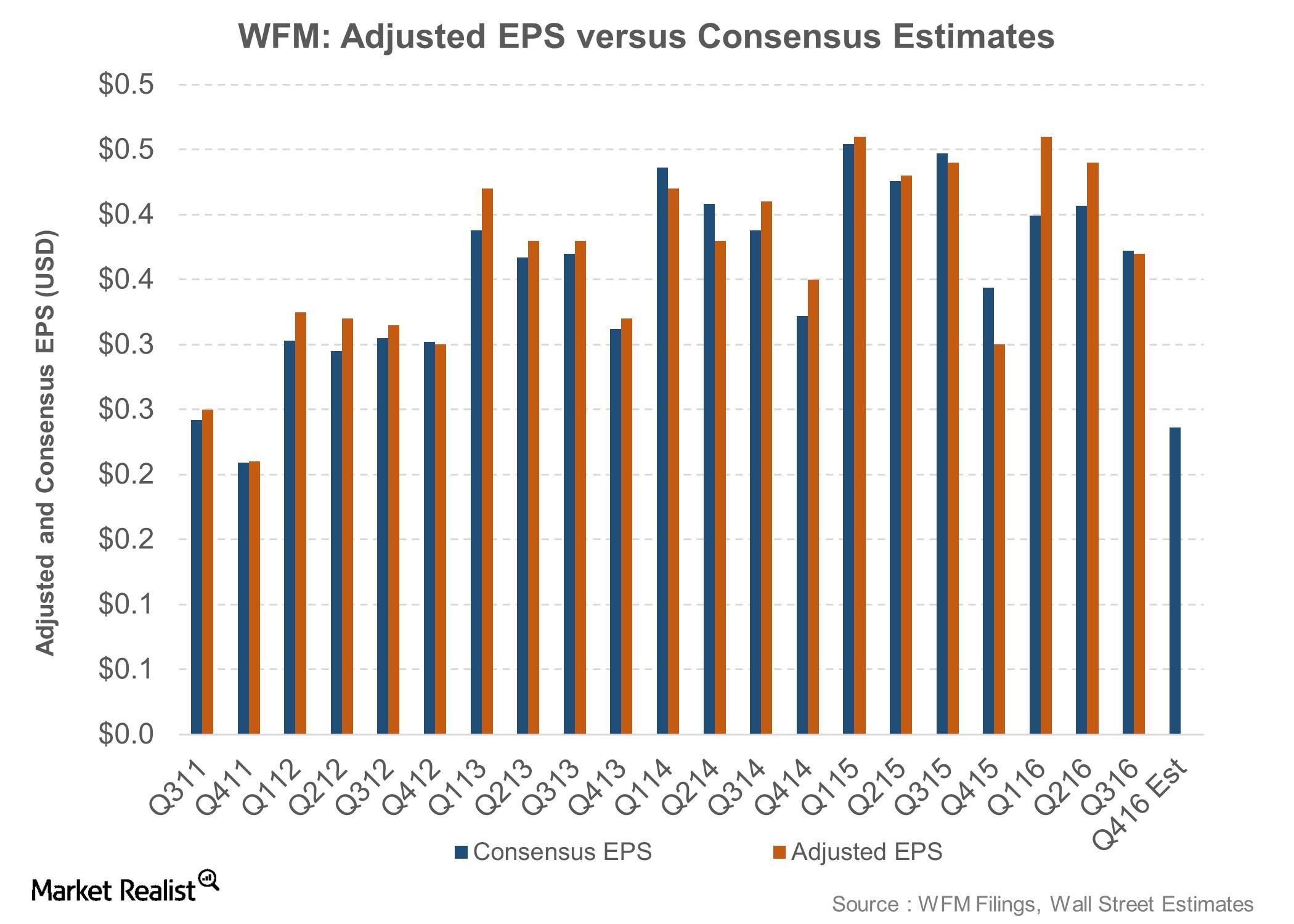 Can Whole Foods Close Fiscal 2016 on a Healthy Note?
Series snapshot
Whole Foods Market (WFM) is slated to report its financial results for the fourth quarter of fiscal 2016 (4Q16) after the market closes on November 2, 2016. The results relate to the three months leading up to September 25, 2016.
For the company's third quarter, which ended in early July, Whole Foods reported a 16% YoY (year-over-year) decline in earnings per share (or EPS) to 37 cents.
For the fourth quarter, Wall Street has predicted a 21% YoY fall in earnings to 24 cents per share. Whole Foods' management has guided for diluted earnings per share in the $0.23–$0.24 range. For fiscal 2016 as a whole, Wall Street has predicted an EPS rise of 2% to $1.51 .
Article continues below advertisement
Valuations summary
WFM is currently trading at a one-year forward earnings multiple of 18.7x, operating in the middle of its 52-week price to earnings (or PE) range of 15.7x–22.7x.
The company continues to trade at a premium to supermarket chains Kroger (KR) and Supervalu (SVU), which are valued at 14.3x and 7.7x, respectively.
Value-oriented organic/natural food player Sprouts Farmers Market (SFM) is, however, more expensive than Whole Foods. The company is currently trading at a one-year forward PE of 23.5x.
ETF investors seeking to add exposure to Whole Foods can consider the Guggenheim S&P 500 Equal Weight Consumer Staples ETF (RHS), which invests 2.64% of its portfolio in the company.
About Whole Foods Market
With trailing-12-month sales of $15.7 billion, Whole Foods Market (WFM) is the leading grocer and retailer of natural and organic foods in the United States. The company was long considered a synonym for healthy food in the country. However, its popularity started to decline with the entry of mainstream food retailers Kroger (KR), Costco (COST), and Walmart (WMT) in the organic food market, which wooed customers with similar products at competitive costs. Whole Foods started losing customers, and its same-store sales plummeted.
Read more about the company's performance next in this series.