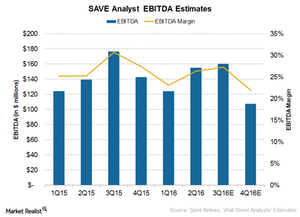 Can Spirit Airlines Maintain Its Industry-Leading Margins?
Analysts' estimates
Spirit Airlines' (SAVE) EBITDA (earnings before interest, tax, depreciation, and amortization) margin is expected to fall to 24.2% in 2016, compared to 26.8% in 2015. As a result, its EBITDA is expected to fall 2.8% in 2016 compared to its rise of 37% in 2015.
Article continues below advertisement
Unit costs flat
Spirit Airlines managed to improve its productivity in 1H16. It did this by shifting to larger planes, purchasing previously leased planes that helped reduce its financing costs, and extending existing leases on other planes.
As a result, the company's unit costs fell 8.6% in 2Q16. For the remaining half of 2016, its units costs are expected to rise owing to maintenance costs. Thus, for 2016, its unit costs are expected to remain flat.
Fuel cost savings to fall
For 3Q16, Spirit Airlines expects its fuel costs to fall to $1.56 per gallon, compared to $1.71 per gallon in 3Q15. Though this will still result in significant savings, it's nowhere close to the savings the company saw in 1H16. Thus, investors shouldn't expect any significant margin expansion from here.
Article continues below advertisement
Spirit Airlines' load factor improves
As discussed earlier, Spirit Airlines' capacity expansion has fallen significantly in 3Q16. As a result, for the past five months, Spirit's capacity utilization has been improving. This improvement should, in turn, help it to maintain its margins.
Outlook
Spirit is one of the smaller US airlines. This gives it ample room to grow and further reduce its costs. In fact, its management is expecting its unit costs to be flat to falling in 2017.