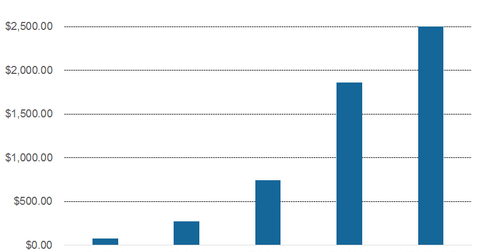 Fitbit's Active User Count Continues to Drive Its Revenue
By Adam Rogers

Updated
Fitbit's revenue has risen significantly in the last five years
Fitbit (FIT) has increased its revenue significantly over the last five years. The company's revenue rose from $76 million in 2012 to $745 million in 2014 and $1.9 billion in 2015. Its revenue rose 254% YoY (year-over-year) in 2013, 175% YoY in 2014, and 149% YoY in 2015.
Fitbit's number of devices sold has increased exponentially over the last few years. The company sold 208,000 devices in 2011. This figure rose to 1.3 million in 2012, 4.4 million in 2013, and 10 million in 2014. Fitbit sold over 21 million devices in 2015 as well.
Article continues below advertisement
Focus on acceleration of network effect
Fitbit's number of active users rose from 2.5 million in 2013 to 6.7 million in 2014 and 16.9 million in 2015. Fitbit is looking to accelerate the network effect of its user community, making it difficult for competitive players such as Apple (AAPL), Garmin (GRMN), and Korea's (EWY) Samsung (SSNLF) to achieve critical mass.
Regarding Fitbit's growth potential, James Park, the company's CEO, stated, "I'm so confident that I will not sell any stock till the end of the year. Joining me in that commitment are co-founder and CTO Eric Friedman and CFO Bill Zerella."
Park went on to say, "I want to reiterate that I'm very proud of the continued strong growth in progress we're making as a company. We continue to focus on building the right team and foundation for long-term growth."