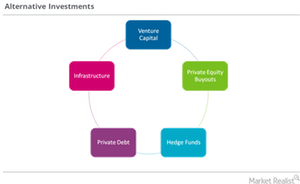 Gross Notes Investors' Shift to Less Risky Alternatives
By Surbhi Jain

Nov. 22 2019, Updated 6:32 a.m. ET
Bill Gross says central banks' wagers cannot continue indefinitely
In the previous part of this series, we discussed why the central banks' wagers with interest rates cannot continue indefinitely due to the inflation factor. In his October 2016 investment outlook, Bill Gross also highlighted the role that investors could play in this game.
Article continues below advertisement
Investor preference may shift
Central bankers can only hope to stimulate the economy with lower and lower rates as long as there are takers for their low or negative yielding sovereign debt. "At some point investors — leery and indeed weary of receiving negative or near zero returns on their money, may at the margin desert the standard financial complex, for higher returning or better yet, less risky alternatives," says Gross.
Every investment decision is a result of the risk and return function of a product. Currently, investors are accepting the low-yielding sovereign debt that's on offer, either to reduce their portfolio risk or due to the lack of a better alternative in the market (SPY) (IWM) (QQQ).
Alternatives may gain prominence
Once more and more low-risk, higher-return products emerge, markets will likely see investors moving to these alternatives (QAI). Already, perpetual low yields and bouts of volatility are increasingly pushing institutional investors towards alternative investments. Total assets under management of the 100 largest alternative investment managers stood at $3.6 trillion at the beginning of the year, which is a 3% year-over-year increase, according to Willis Towers Watson. Markets should see allocations to alternative investments rising even more as long as sovereign debt continues to offer miserable yields and forecasts for equity returns remain muted.
Markets are already attempting to stabilize the value of their current assets in future purchasing power terms through the invention and use of technologies such as Bitcoin. Gold (GLD) as a commodity is also gaining prominence in this regard.
The central banks' current strategies are also destroying the capitalism function in the economy, which we'll discuss in the next part of this series.