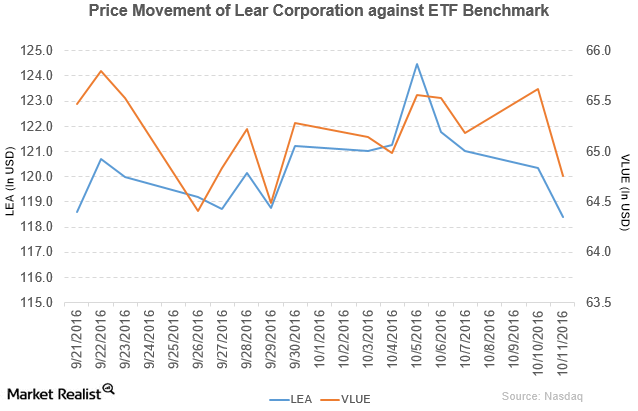 Baird Rated Lear Corporation as 'Neutral'
Price movement
Lear Corporation (LEA) has a market cap of $8.5 billion. It fell 1.6% to close at $118.40 per share on October 11, 2016. The stock's weekly, monthly, and year-to-date (or YTD) price movements were -2.4%, 2.5%, and -2.8%, respectively, on the same day.
LEA is trading 0.71% below its 20-day moving average, 1.8% above its 50-day moving average, and 6.7% above its 200-day moving average.
Article continues below advertisement
Related ETF and peers
The iShares Edge MSCI USA Value Factor ETF (VLUE) invests 0.25% of its holdings in Lear. The ETF tracks an index of large-cap and mid-cap US equities. Stocks are selected and weighted using fundamental metrics (earnings, revenue, book value, and cash earnings), aiming for exposure to undervalued stocks in each sector. The YTD price movement of VLUE was 4.1% on October 11.
The market caps of Lear's competitors are as follows:
Lear's rating
On October 11, 2016, Baird initiated the coverage of Lear Corporation with a "neutral" rating and also set the stock's price target at $133.00 per share.
Article continues below advertisement
Performance in 2Q16
Lear Corporation (LEA) reported 2Q16 net sales of $4.7 billion, a rise of 2.2% from its net sales of $4.6 billion in 2Q15. Sales from North America and Asia fell 2.9% and 6.7%, respectively.
Lear's sales from Europe and Africa rose 11.3%, and its sales from South America rose 4.5% between 2Q15 and 2Q16. The company's cost of sales as a percentage of net sales fell 2.1%.
Lear's net income and EPS (earnings per share) rose to $282.4 million and $3.82, respectively, in 2Q16, compared to $181.9 million and $2.33, respectively, in 2Q15. It reported adjusted EPS of $3.66 in 2Q16, a rise of 29.8% compared to 2Q15.
Lear's cash and cash equivalents and inventories rose 16.6% and 6.7%, respectively, between 2Q15 and 2Q16. Its current ratio and long-term debt-to-equity ratio fell to 1.3x and 0.81x, respectively, in 3Q16, compared to 1.4x and 0.84x, respectively, in 4Q15. The company reported free cash flow of $435.4 million in 2Q16, a rise of 20.8% compared to 2Q15.
During 2Q16, the company repurchased ~2.3 million shares of its common stock worth $250 million. At the end of 2Q16, it retained $595 million under its share repurchase program.
Projections
Lear has made the following projections for 2016:
sales of $18.5 billion–$18.8 billion
core operating earnings of $1.45 billion–$1.50 billion
free cash flow of $900 million
effective tax rate of 28%
adjusted net income of $935 million–$975 million
pretax operational restructuring costs of $70 million
capital spending of $525 million
These projections are based on the following assumptions of industry vehicle production:
18.0 million units in North America
22.3 million units in Europe and Africa
24.0 million units in China
In the next article, we'll take a look at General Motors (GM).