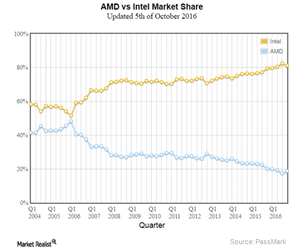 AMD's Zen Looks to Challenge Intel in the High-End PC, Server Market
By Puja Tayal

Updated
AMD aims for the commercial PC market
Just as Advanced Micro Devices (AMD) aims to challenge NVIDIA (NVDA) in the high-end GPU (graphics processing unit) market, the company is also aiming to challenge Intel (INTC) in the high-end PC and server market and to gain market share. By targeting high-end consumers, AMD looks to improve its profitability in the slowing PC market.
AMD stated that its shipments of Pro processors for commercial computers have increased by over 45% during the past two years. The commercial PC market is dominated by Intel, which has a ~95% market share. Despite this dominance, AMD believes that the market still presents a $20 billion opportunity. The company aims to tap this market with its Zen processor and does not need to perform better than Intel to do it.
Article continues below advertisement
AMD aims at high-end server market with Zen 
Intel commands a more than 95% share in the server market. According to AMD, the total addressable server market is around $18 billion. If it manages to win back a 5% market share, that would significantly boost its enterprise segment's revenue.
AMD's Zen roadmap
AMD stated that the first Zen-based processors would be for desktops and are expected to arrive in limited volumes in calendar 4Q16, with volume production starting in calendar 1Q17. This would be followed by Zen-based server processors in calendar 2Q17 and notebook processors in calendar 2H17.
Between 2017 and 2018, AMD may have two high-performance CPU (central processing unit) cores. The first would be an ARM-based processor code-named "K12," and the second would be an x86-based processor code-named "Zen+."
Article continues below advertisement
Bristol Ridge can be upgraded to Zen
Early signs of the Zen-based desktop processors are already visible in AMD's newly launched Bristol Ridge processor, which will be inside Hewlett-Packard (HPQ) and Lenovo's business computers. Bristol Ridge will provide an upgrade path to Zen processor. PCWorld, citing AMD officials, reported that the AM4 socket is compatible with both Bristol Ridge and Zen, enabling consumers to buy PCs now and later upgrade them with Zen processor.
AMD's Director of Commercial Business Development, John Hampton, stated that the ability to upgrade fits with the need of business to keep their PCs for many years.
Rumor: Zen inside MacBooks?
There are rumors that Apple (AAPL) may switch from Intel processors to Zen processors for its 2018 MacBook Pros. AMD may design a semi-custom SoC (system-on-chip) featuring Polaris GPU, Graphics Core Next, and High Bandwidth Memory. This move would bring a significant upgrade to Mac and would also be cost-effective for Apple.
Next, we'll look at AMD's efforts in the semi-custom and embedded space.