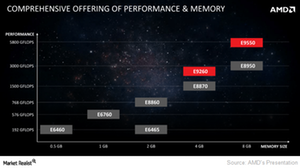 Inside AMD's Plan for Its Semi-Custom and Embedded Business
AMD looks to expand the semi-custom business beyond game consoles
Advanced Micro Devices (AMD) is targeting high-end markets of GPU (graphics processing units), PCs, and servers. In the semi-custom space, the company is a leader in the game console market, wherein it powers Sony's (SNE) PlayStation and Microsoft's (MSFT) Xbox.
AMD is now looking to expand the use of semi-custom chips in non-console markets and is in talks with some OEMs (other equipment manufacturers) for the same. In the embedded space, it's looking to expand the application of its GPUs.
Article continues below advertisement
AMD's new embedded products
AMD has a separate Radeon product lineup for the embedded market because the user case and support requirements for embedded devices vary from that of normal GPUs. The company will likely launch Polari GPUs for embedded devices in fiscal 4Q16. Under this umbrella, it would launch two cards, the E9260 and the E9550.
E9260
The E9260 will be similar to Radeon RX 460 and will be based on Polaris 11 GPU. It would have a 50W (watts) power requirement compared to the 75W of its predecessor E8870. Moreover, it would have 2.5 teraflops (floating point operations per second) of single precision floating point performance, as compared to its predecessor's 1.5 teraflops. AMD will likely launch this GPU by the end of fiscal 4Q16 and offer it for five years.
Article continues below advertisement
E9550
The E9550 will be similar to Radeon RX 480 and will be based on Polaris 10 GPU. It will likely have a 95W power requirement and have 93% better performance than its predecessor E8950. AMD plans to launch this GPU in October 2016 and offer it for a period of three years.
The new Polaris-based embedded GPUs would support full H.265 video encoding and decoding, a feature not available in the earlier GPUs based on Tonga architecture. The new Polaris GPUs would also support HDMI 2.0 (High-Definition Multimedia Interface) and DisplayPort 1.3/1.4.
AMD looks to expand the use of its embedded products
Like its predecessors, the E9260 and the E9550 will target the digital signage, casino gaming, 4K teleconferencing, retail, medical imaging, and transportation markets. However, AMD is looking to expand the use of these GPUs beyond display into computing. The GPUs can be used for image analysis and machine learning to enable casino machine or digital sign to react to a consumer. In the medical area, the GPU can be used for beam forming.
On the broader front, AMD is eyeing to expand virtual and augment reality beyond gaming and into industrial, medical, designing, and education applications.
In the next and final part, we'll analyze AMD's recent stock performance.