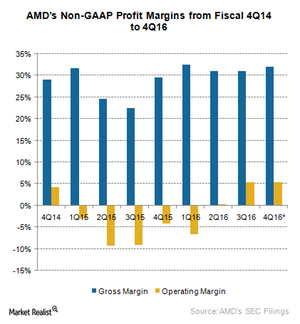 What Converted AMD's Revenue Declines into Revenue Growth?
By Puja Tayal

Dec. 4 2020, Updated 10:53 a.m. ET
AMD's profits improve
In the previous part of the series, we saw that Advanced Micro Devices (AMD) reported strong revenues in fiscal 3Q16 on the back of seasonal demand for semi-custom chips. As the seasonal effect fades in fiscal 4Q16, the company expects revenue to fall sequentially. However, it expects profit margins to improve in fiscal 4Q16 as it realizes licensing gains and improves operational efficiency.
Article continues below advertisement
Gross margin
As seen from the above graph, AMD has maintained its non-GAAP (generally accepted accounting principles) gross margin above 30% in the last three quarters. On the other hand, rivals Intel (INTC) and Nvidia (NVDA) maintained gross margins above 60% and 55%, respectively.
The vast difference in margins is because Intel and Nvidia dominate the high-end markets that generate high margins, leaving the low-end market for AMD. Thus, the only way AMD can improve its margins is through volumes. It expects its gross margin to improve slightly to 32% in fiscal 4Q16 due to seasonal sales.
Now, AMD is looking to challenge Nvidia and Intel in the high-end markets with its Vega GPUs (graphics processing unit) and Zen CPUs (central processing unit). If the two products turn out to be successful, AMD's gross margin would improve in fiscal 2017.
R&D expenses
AMD reduced its R&D (research and development) expense from $1.4 billion in fiscal 2011 to $947 million in fiscal 2015, which negatively impacted the company's revenue. In fiscal 3Q16, the company increased its R&D expense by 6.6% sequentially, which increased its operating expense by 3% to $353 million. The company expects to maintain operating expenses at $350 million in fiscal 4Q16.
Article continues below advertisement
Operating margin
Despite an increase in operating expense and flat gross margin, AMD reported a non-GAAP operating profit of $70 million driven by $24 million of net licensing gains from its Chinese joint venture. This represents an operating margin of 5.4%. The company expects to maintain this margin in fiscal 4Q16 with support from a licensing gain of $25 million.
Net margin
AMD reported non-GAAP net income for the first time in six quarters. In fiscal 3Q16, it reported non-GAAP net income of $27 million, or a net margin of 2%. During the quarter, the company reduced its debt significantly, thereby bringing annual interest savings of $55 million. The impact of this could be visible in fiscal 4Q16 when non-GAAP interest expenses are estimated to fall to $32 million, thereby improving net profit.