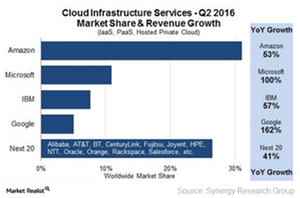 AMD to Now Compete with Nvidia in the Server Market
By Puja Tayal

Nov. 2 2016, Updated 9:04 a.m. ET
The changing landscape of the server market
In the previous part of the series, we saw that semi-custom chips form a major portion of Advanced Micro Devices' (AMD) EESC (Enterprise, Embedded, and Semi-Custom) segment. Apart from this, the segment also includes AMD's x86 and ARM-based server processors and embedded GPUs (graphics processing units).
AMD has been competing with Intel (INTC) in the server space for a long time. However, the landscape is changing, and an increasing number of cloud service providers are using GPUs for their deep learning efforts. Nvidia (NVDA) is at the forefront of this trend.
Article continues below advertisement
AMD to power Alibaba's servers
In mid-October 2016, Chinese e-commerce company Alibaba (BABA) selected AMD's GPUs to power its cloud servers. As a result, AMD's share prices rose 4% in just one day. Although the commercials of the deal weren't disclosed, this win would significantly increase AMD's enterprise revenue, as the cloud market is a concentrated space dominated by a few very large players.
Alibaba also uses Nvidia GPUs for its cloud servers. The e-commerce giant stated that the combination of both Nvidia and AMD technologies would give its customers "diversified" cloud-based graphics processing solutions.
AMD continues to compete with Intel in the server market
Unlike Nvidia and Intel, AMD provides both discrete GPUs and server processors to the data center market. With the Alibaba win, AMD would compete with Nvidia not only in the gaming market but also in the data center market.
The company will also make efforts to win back some market share from Intel in the server processor market by launching its Zen server processors in fiscal 2Q17. With Zen, AMD would target the high-end server market that's currently dominated by Intel. AMD announced that Hewlett-Packard Enterprise (HPE) would offer Zen-powered servers.
While AMD expands the addressable market of its GPUs, it will continue to increase its share in the GPU core end market of gaming. Next, we'll look at the company's computing and gaming segment and understand the factors impacting its earnings.