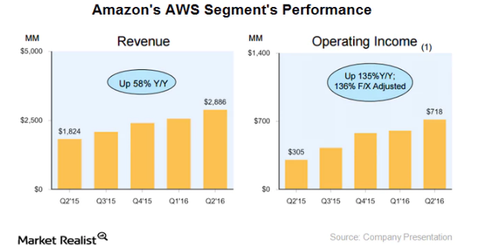 Amazon Continues to Make Large Investments in Its AWS Business
By Anne Shields

Updated
Amazon's overwhelming scale and presence in cloud space
Amazon.com (AMZN) continues to be the undisputed leader in the cloud space and is approximately three times the size of its closest competitor, Microsoft (MSFT). Amazon's magnitude can be gauged by the fact that while Microsoft and Oracle reported 100% and 152% growth, respectively, in 2Q16, they are still only approximately one-third and one-sixth sizes of Amazon in the cloud space.
Oracle's (ORCL) growth in the cloud space also got a mention in Synergy Research Group report, but Amazon's presence and scale dwarf Oracle's and other players' growth and presence.

Article continues below advertisement
According to John Dinsdale, Chief Analyst and Research Director at Synergy Research Group, "The ranking of the next 20 largest cloud providers features some interesting companies, with Alibaba and Oracle growing particularly strongly, but they are all starting from a long way behind Google, which is itself growing by well over 100% per year and yet remains only a sixth the size of Amazon."
Amazon's AWS is the key to success
Amazon's cloud computing segment, AWS (Amazon Web Services), is key to its profitability, as the segment accounts for about 56% of the company's overall operating profit. Amazon's AWS has been witnessing stellar growth on account of higher demand and its use of cloud services.
Amazon continues to invest in AWS at a continually faster pace. For the first half of 2016, the company added 422 new features and services to AWS, which compares favorably to the 722 new features it added in 2015.
Amazon's AWS is growing faster than the company's traditional business segments, thanks to the increased investment that kept AWS ahead of the competition. Meanwhile, the market for cloud computing continues to grow at a rapid rate, and Amazon, as an industry leader, is likely to benefit significantly from this growth.