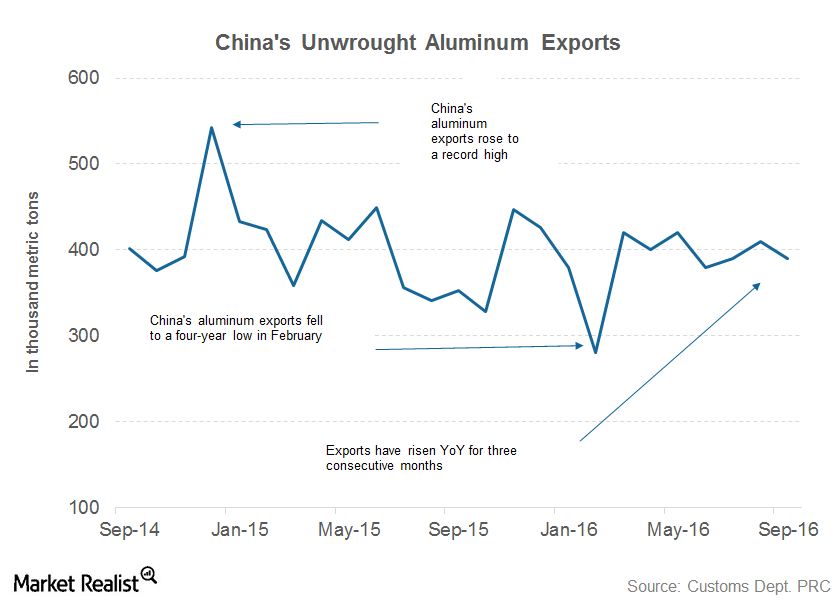 Alcoa Cuts Aluminum Deficit Projection: Is China to Be Blamed?
Aluminum deficit
Aluminum markets have been in a surplus for almost a decade now. However, some observers see the market headed for a deficit in 2016.
During its 3Q16 earnings call, Alcoa (AA) cut its deficit projection for global markets in 2016—its second downward revision of the year. Notably, while Alcoa has maintained its demand growth outlook, it's seen rising supply from China as well as the rest of the world.
Article continues below advertisement
Deficit projection
China's aluminum exports rose 10% YoY (year-over-year) in 2015. Facing flak from most of its trading partners, China announced late last year that it would curtail its excess aluminum capacity. We saw a steep fall in Chinese aluminum exports earlier this year, mainly driven by falling aluminum prices, which made exporting aluminum unprofitable for some Chinese smelters (ACH).
However, as aluminum prices have recovered from their troughs, we've started to see restarts of some curtailed capacity in China. Century Aluminum (CENX) and Norsk Hydro (NHYDY) said during their respective 2Q16 earnings calls that we could see possible restarts of some curtailed Chinese capacity in 2H16.
China's September exports
In September 2016, China had exported 390,000 metric tons of unwrought aluminum—a YoY rise of 10.6%. This was preceded by yearly rises of 20.4% and 9.3%, respectively, in August and July. Higher Chinese aluminum exports are a challenge for producers elsewhere as Chinese exports put pressure on aluminum prices (DBC).
In the next article, we'll look at China's September copper imports.