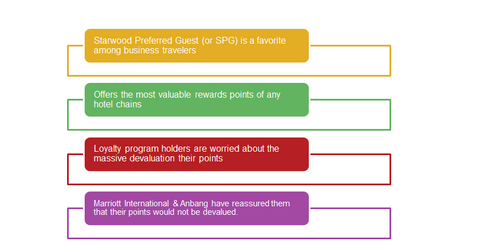 How Will the Marriott-Starwood Merger Impact Consumers?
By Ally Schmidt

Updated
Big bet on the Starwood loyalty program
According to Marriott's (MAR) CEO, Arne Sorensen, Starwood's (HOT) guest loyalty program—SPG (Starwood Preferred Guest)—was a "central, strategic rationale for the transaction."
The SPG is important to Marriott because its members are more loyal to the brand. Its members have higher income levels and spend more nights traveling.
Why are consumers worried?
Ever since the announcement of the Marriott-Starwood merger, Starwood's customers have been worried that the status of SPG might be devalued. Marriott runs a loyalty program of its own. Both of the programs are extremely different with their own strengths. However, the SPG program is considered to be superior.
Win-win for consumers
Consumers, don't need to worry—at least for now. Marriott decided to run both of the programs separately for the indefinite future—no timeline has been declared for the merger of the two loyalty programs, but it's definitely coming.
Consumers can link both of their accounts and transfer points back and forth. The conversion ratio will be one SPG reward point for three Marriott reward points—putting devaluation fears to rest. Also, the elite status across both of the programs will be matched. That means that a platinum member in one program will automatically get a platinum status in the other program.
Also, consumers will have a larger choice of hotels.
Great coverage
The merger provides consumers with a great portfolio of hotel brands and an extensive global footprint. Marriott has better coverage in the Caribbean, while Starwood has better coverage in Asia. For example, Marriott customers can use their points on new destinations such as Bora Bora, Santorini, and the Maldives. On the other hand, SPG customers will have access to Tuscany, Aruba, and South Africa's Kruger National Park.
However, this won't be the case forever—sooner or later the programs will have to be merged. This might be a great opportunity for customers to enjoy the perks of both popular loyalty programs.
Also, things may not be so positive on the pricing front. We'll discuss this in the next part. Investors can gain exposure to Marriott by investing in the PowerShares BuyBack Achievers Portfolio (PKW), which invests ~0.9% of its portfolio. It also invests in Wyndham (WYN) and Hyatt (H).