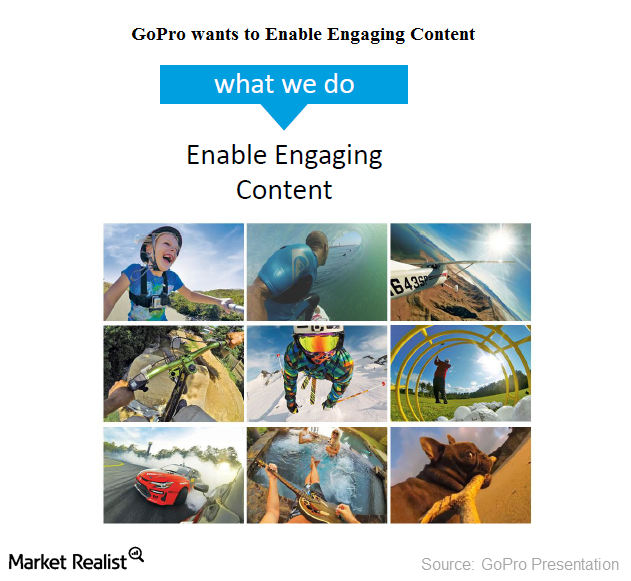 GoPro Apps Quik, Splice among Key Parts of Its Ecosystem
By Adam Rogers

Sep. 15 2016, Updated 3:04 p.m. ET
Important acquisitions in 2016
GoPro (GPRO) has recognized the importance of investing in software to compete in today's digital world. GoPro notes that its software solutions allow users to manage, edit, and share content.
In February 2016, GoPro announced the acquisition of two mobile editing apps—Quik and Splice. In May 2016, the company relaunched the apps as "GoPro branded experiences."
The first application, Quik, is an automated editing app. With this application, users can produce original videos from GoPro products as well as footage from their own smartphones.
The second application, Splice, eases the process of custom editing. Both apps have almost doubled their combined MAUs (monthly active users) to 3.7 million since the rebranding in May. These apps have been downloaded more than 37 million times.
Article continues below advertisement
Opportunity to engage a larger audience
After the acquisition of these apps, GoPro (GPRO) continued the application support for content produced from smartphones. This meant that GoPro's software solutions would be available to billions of smartphone users around the world.
As the two apps have been downloaded more than 37 million times, GoPro's total user base is not limited to only GoPro product owners. GoPro can take advantage of this growing user base to engage a larger audience.
The founder and CEO of GoPro, Nicholas Woodman, stated, "In the months ahead, we will be consolidating our mobile and desktop solutions into a clear and convenient cross-platform experience that will allow consumers to access, create and share anytime, anywhere."