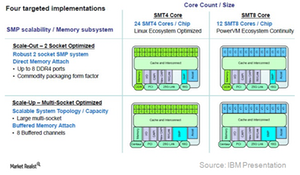 Will IBM's Power9 Server Chips Pose Competition to Intel's Server Chips?
By Puja Tayal

Sep. 6 2016, Published 4:10 p.m. ET
IBM's Power9 server chips 
In the previous part of the series, we learned that Intel (INTC) will see new server chip competition in 2017. One such company posing such competition is IBM (IBM). 
IBM's development of its Power9 architecture has been in the news for some time, and now the company will make it available to other hardware companies by licensing its designs. Power9 chips are scheduled to come in the market in 2H17. Let's look at some features of the new chips.
Article continues below advertisement
Intel's x86 versus IBM's Power9
At IDF (Intel Development Forum) 2016, IBM unveiled its Power9 server processors, built on 14nm (nanometer) FinFET (fin-shaped field effect transistor) process technology, just like Intel's current server processors. 
IBM will also integrate Xilinx's (XLNX) FPGA (field-programmable gate array) technology in its servers, just like Intel is integrating Altera's FPGA.
Features of Power9
IBM will launch Power9 in two basic designs: a 24 SMT4 processor and a 12 SMT8 processor.
The 24 SMT4 processor will be optimized for the Linux ecosystem and will target web service companies such as Google (GOOG), which need to run across several thousand machines. It will feature four threads.
The 12 SMT8 processor will be optimized for the PowerVM ecosystem and will target larger systems designed for running big data or AI (artificial intelligence) applications. It will feature eight threads.
Article continues below advertisement
Both designs will come in two models: the scale-out model will come with two CPU (central processing unit) sockets on the motherboard, and the scale-up model will come with multiple CPU sockets. The Power9 processor will have multiple connectors to attach FPGAs, GPUs (graphics processing units), and ASICs (application-specific integrated circuits).
IBM and Intel eye artificial intelligence
With all this, IBM aims to make Power9 apt for AI, cognitive computing, analytics, visual computing, and hyperscale web serving. Intel is also looking to tap AI and has recently acquired an AI startup called Nervana Systems for this reason. It has also recently developed Xeon Phi processors for deep learning applications.
IBM has changed its strategy in order to pose tough competition to Intel. We'll look at this strategy in the next part of the series.