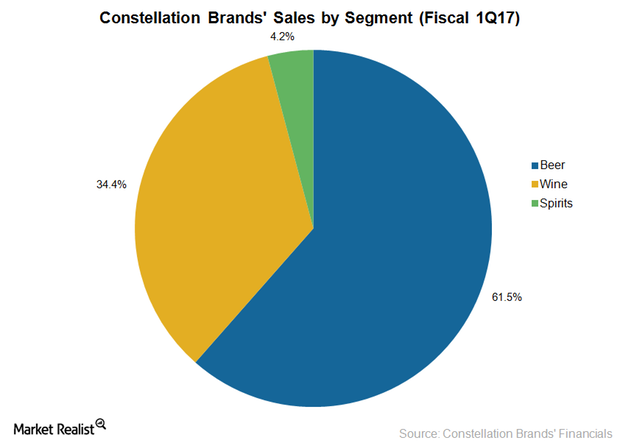 Will Constellation Brands' Beer Portfolio Continue to Impress?
Strong beer portfolio
Constellation Brands (STZ) is leveraging the strong demand for its imported beers. It has an impressive portfolio of Mexican beer brands including Corona Extra, Corona Light, and Modelo Especial. The beer segment is the company's largest sales source. It contributed 61.5% of the overall sales in fiscal 1Q17, which ended on May 31, 2016. The company's wine and spirits segments accounted for 34.4% and 4.2% of its fiscal 1Q17 sales, respectively.
Article continues below advertisement
Performance in the previous quarter
The beer segment's sales rose 19.2% to $1.2 billion in 1Q17. The company attributed the strong growth in its beer segment sales to higher volumes of its Mexican beer portfolio and the contribution of $42.4 million of sales from the Ballast Point craft brewer acquisition. The segment's sales also rose due to higher pricing of the company's Mexican beer portfolio in select markets.
For fiscal 2017, the company expects its beer segment's net sales and operating income to rise 14% to 17%.
Constellation Brands is the third-largest beer maker in the US segment. Anheuser-Busch InBev (BUD) is the largest beer manufacturer. It's followed by MillerCoors—a joint venture between Molson Coors Brewing (TAP) and SABMiller (SBMRY). The proposed acquisition of SABMiller by Anheuser-Busch InBev is expected to be completed in October 2016. As part of this acquisition, Anheuser-Busch InBev agreed to divest SABMiller's interest in MillerCoors to Molson Coors.
Article continues below advertisement
Growth strategy 
To address the intense competition in the beer industry and the growing demand for its popular Mexican beers, Constellation Brands is aggressively investing in capacity expansion. In June 2016, the company completed the planned expansion of its Nava brewery facility to a capacity of 20 million hectoliters. Now, the company aims to expand this facility more to a production capacity of 25 million hectoliters by the summer in 2017 and 27.5 million hectoliters by early 2018.
The company is also focusing on advertising and marketing its brands. In August 2016, Constellation Brands announced the launch of Casa Modelo brand house. It will bring the Especial, Negra, and Chelada brands under one roof. The company thinks that this new portfolio approach will facilitate cross-promotion of the brands. As part of the alignment of the Modelo brands under Casa Modelo, the company is also introducing unified packaging for these brands.
The next part of this series, we'll discuss the expectations from Constellation Brands' margins.