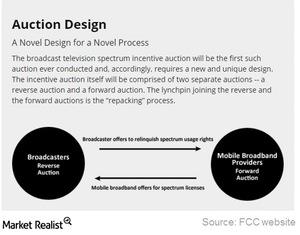 Comcast Toys with Plans to Enter the Wireless Space
By Shirley Pelts

Updated
Comcast's wireless strategy
There's been widespread speculation that Comcast (CMCSA) is prepared to compete with telecom providers such as AT&T (T), Verizon Communications (VZ), T-Mobile (TMUS), and Sprint (S) in the wireless space. These speculations arose when the company filed a bid to participate in the FCC's (Federal Communications Commission) 600 MHz (megahertz) broadcast television spectrum incentive auction in 2016.
Comcast was asked at the Nomura Media, Telecom & Internet Conference last month whether it was necessary for the company to go for wireless distribution because more users are accessing content on mobile devices. But Comcast ruled out wireless distribution, pointing out that presently, it distributes most of its content on different devices across different wireless carriers.
Article continues below advertisement
Comcast further indicated that when it comes to its wireless strategy, the company is "very carefully evaluating" options while "understanding the market." The company added that it's exploring "what's possible for us to do and we're looking carefully at how we think that benefits our current market trajectory in terms of what we offer, how we offer it, how successful we are and how much we can grow."
Comcast said, however, in its fiscal 2Q16 earnings call that it considers the wireless business a "significant opportunity." It also said, "With 28 million customer relationships, our MVNO rights which we've invoked and our 15 million WiFi hotspots we think there's a real business opportunity there."
Broadcast television spectrum auction
The FCC's broadcast television spectrum auction consists of a forward auction and a reverse auction. In the forward auction, mobile broadband providers bid for flexible usage of wireless spectrum licenses. In the reverse auction, television broadcasters will give up their usage rights for the 600 MHz spectrum.
Now let's investigate Comcast's approach to stacking rights.