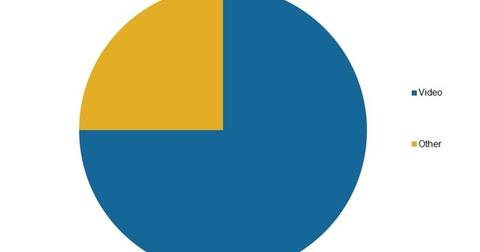 Will Charter Build Out Its Own Wireless Network?
By Shirley Pelts

Updated
Charter's Wi-Fi Network
In the previous part of this series, we explored why Charter Communications (CHTR) could have activated its MVNO (mobile virtual network operator) agreement with Verizon Communications (VZ). In this part of the series, we'll explore whether Charter could be intending to build out its wireless network with the activation of its MVNO agreement with Verizon.
According to a FierceCable report from September 27, Charter's CFO Christopher Winfrey stated at the Deutsche Bank Leveraged Finance Conference that around 70% to 80% of wireless traffic is occurring over the company's Wi-Fi network. But Charter is unable to monetize this traffic effectively.
As a result, according to the report, Charter believes that "a wireless launch with limited ambition has value in growing Charter's core products."
Article continues below advertisement
However, according to another FierceCable report, Jim Blackley, Charter's executive vice president of Engineering and IT stated at the SCTE Cable-Tec Expo that Charter could create its own wireless network in the future. According to the report, Jim Blackley "pointed toward power and deep fiber backhaul as key components Charter already has in order to create an "unbeatable" network."
Increase in Mobile data traffic
Wi-Fi networks are increasingly coming under pressure regarding their speed and latency as more and more viewers stream videos over the Internet. The most significant component of mobile data traffic is video traffic. As the chart above shows, according to Cisco's (CSCO) Visual Networking Index forecasts, video made up around 59.8% of mobile data traffic in the United States in 2014, and it's expected to expand to ~75% by 2019.