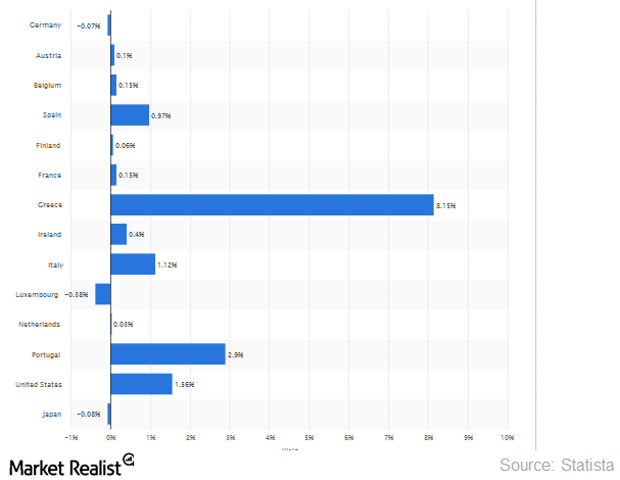 Will Bonds Continue to Outperform?
By Matt Tucker, CFA

Oct. 3 2016, Updated 8:06 a.m. ET
Where does this leave us?
From the fixed income flow data, investors don't seem to fear a Fed rate hike or expect a fast trajectory for rising rates. They have shown interest in funds that potentially provide some income or protection from inflation, and investment grade credit, emerging market debt and TIPS benefited from that. More and more yield-searching investors are considering nontraditional income asset classes, but keep in mind that higher income could mean higher volatility, with the most recent example being high yield debt. If you take on more risk, make sure you thoughtfully diversify your income sources, particularly as we near the next Fed rate increase.
Article continues below advertisement
Market Realist –Will the bond euphoria continue?
Global debt encompassing the household, government, financial, and nonfinancial corporate sectors rose more than $10 trillion in the first half of 2016. It breached the $216 trillion mark, or 327% of the global GDP. The growth was mainly driven by the nonfinancial corporate sector and the government sector.
Bonds held a lot of promise compared to stocks on September 26, 2016, due to the continuous influx of funds from stocks to bonds. The iShares 20+ Year Treasury Bond (TLT) rose 0.6%. Ten-year Treasury bonds and 30-year Treasury bonds have risen 1.6% and 2.3%, respectively, as of September 26, 2016.
Rally of bonds over the rest
US Treasury funds recorded an inflow of $1 billion during the week ended September 21, 2016. International and global debt funds recorded an inflow of more than $0.7 billion during the same period.
US-based taxable bond funds were injected with $5 billion of inflows during the week ended September 21, 2016. US-based stock mutual funds and stock ETFs saw withdrawals of $2.1 billion and $1.4 billion, respectively, during the same period. US investment-grade corporate bond funds recorded $2.1 billion of inflows, while junk bond funds recorded outflows of $274 million.
US money-market funds recorded outflows worth $17.1 billion during the week ended September 21, 2016. US-based funds that invest in Japanese stocks recorded outflows worth $62 million. US-based European stock funds were also stripped of $751 million toward outflows during that same week.
The CBOE Volatility Index rose almost 18% to 14.5 on September 26, 2016. The major stock indexes, namely the Dow Jones Industrial Average, the S&P 500, and the Nasdaq, fell almost 1% as of September 26, driven by the healthcare, financials, and consumer sectors.
COMEX (Commodity Exchange) gold futures fell 0.04% on September 26, 2016. The SPDR Gold Shares (GLD) and the iShares Silver Trust (SLV) fell 0.08% and 1.5%, respectively, that same day. Copper futures fell 0.5%. The PowerShares DB US Dollar Bullish ETF (UUP) fell 0.2%, while the euro-dollar rose 0.2%.
So considering the present global scenario, you could consider going long on the various categories of bonds and perhaps diversify your portfolio with a holistic mixture of stocks and commodities such as gold and silver, depending on your risk appetite.