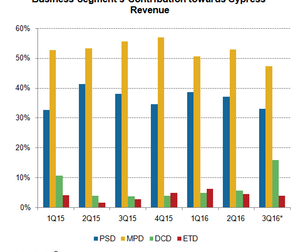 How Will AVGO's Wireless IoT Affect CY's Data Communications?
By Puja Tayal

Updated
Data Communications division
In the previous part of the series, we looked at Cypress Semiconductor's (CY) profitable memory and emerging technologies segments. Let's now look at the company's DCD (Data Communications division), which could be the highlight of its 3Q16 earnings as it integrates Broadcom's (AVGO) wireless IoT (Internet of Things) business.
The DCD offers products that connect multiple devices such as USBs (universal serial buses), cable controllers, and wireless BLE (Bluetooth low energy) devices. The addition of Broadcom's business will add Wi-Fi, Zigbee, and Bluetooth products to the division's offerings.
Article continues below advertisement
Impact of Broadcom's IoT business on Cypress's revenue
The DCD accounted for 6% of the company's revenue in 2Q16. During the quarter, the division's revenue rose 33.4% YoY (year-over-year) to $25.5 million, driven by strong demand for trackpad and USB Type-C technology. However, the segment's operating loss widened from $3.6 million in 2Q15 to $7.2 million in 2Q16.
Despite its losses, Cypress continues to expand in the IoT space, and data communication is a key aspect of its embedded products. Even Intel (INTC) is investing in networking and communication to tap into the revolution of the connected world.
Cypress has integrated Broadcom's wireless IoT segment into the DCD, which will add $55 million–$60 million in revenue, bringing the division's 3Q16 revenue above $80 million. This integration should triple the size of the DCD, increasing its revenue contribution from 6% at present to 15% in 3Q16. It should also increase the overall company's revenue by 15% during the quarter.
Article continues below advertisement
The DCD's product mix
Around 10% of the DCD's revenue will come from the automotive space, 60% will come from the consumer space, and 30% will come from the industrial space. However, the company's design wins are leaning toward the automotive space as more new cars feature Wi-Fi connectivity.
Cypress has secured strong design wins in the consumer space, especially in IP cameras. In the commercial space, it has secured design wins in the retail, asset tracking, and agricultural markets.
How will Cypress integrate Broadcom's IoT products?
In the short term, Cypress will develop an IoT platform that can combine all its products, including microcontrollers, flash memory, and wireless connectivity standalone chips. This platform will be supported by Broadcom's WICED (wireless Internet connectivity of embedded devices) software development environment.
On the product front, Cypress is looking to offer Wi-Fi and Bluetooth combinations and expects to launch these products soon. Broadcom's IoT business has a gross margin of around 50%, which could improve CY's gross margin by 1%.
We'll aim to understand the factors influencing Cypress's gross margin in the next part of this series.