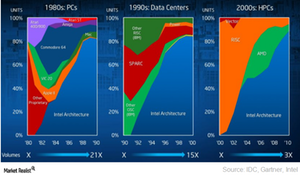 Will ARM's New Supercomputer Chip Match Intel's Performance?
By Puja Tayal

Sep. 7 2016, Updated 10:04 a.m. ET
ARM jumps into data center war
In the previous part of the series, we saw that IBM (IBM) would license its Power9 chips to other hardware manufacturers, a strategy which is the business model of UK-based ARM Holdings (ARMH). 
ARM's chips power almost every mobile in the world. They've beaten Intel (INTC) in this space because of their power efficiency.
However, ARM struggles in the data center space, where Intel holds 98% of the market with its high-performance x-86 chips. Although ARM's chips are power efficient, their low computing performance fails to meet consumer needs, and they've struggled to capture market share.
However, things are about to change. ARM recently unveiled its chip design for supercomputers at the Hot Chips conference.
Article continues below advertisement
ARM's new chip design for supercomputer
ARM has made some significant changes in its chip design to boost its computing power. It's working with Japan's (EWJ) Fujitsu to develop a new server chip. Fujitsu is currently building a successor to the world's fifth fastest computer, K Computer. The new Post-K supercomputer will drop Fujitsu's SPARC 64 VIIIfx chips and use ARM's chips based on 64-bit ARM-v8A architecture.
The new supercomputer will deliver 50–100 times faster performance than the K Computer, which delivered a peak performance of 10.5 petaflops.
How will ARM boost computing performance?
To increase the speed of the Post-K supercomputer, ARM will base its chip design on vector processors, which were used in late 1980s and early 1990s supercomputers. Even Intel is using vector processors in its Xeon Phi supercomputer chips, which are designed for supercomputers.
ARM hopes to deliver both high performance and power efficiency with its new server chip design. This design could give ARM the upper hand in terms of making its mark in the data center space. Supercomputing performance, including deep learning and artificial intelligence, is now becoming routine for emerging technologies, and this could prove beneficial for ARM.
Qualcomm (QCOM), which licenses ARM chips, is also making inroads in the server market. Advanced Micro Devices (AMD) is also developing server chips to compete with Intel.
AMD stands to benefit from the x86 and ARM architecture design war, as it has licenses for both. AMD will start with its x86-based server processor Zen. We'll look at Zen's ability to compete with Intel's chips in the next part of the series.