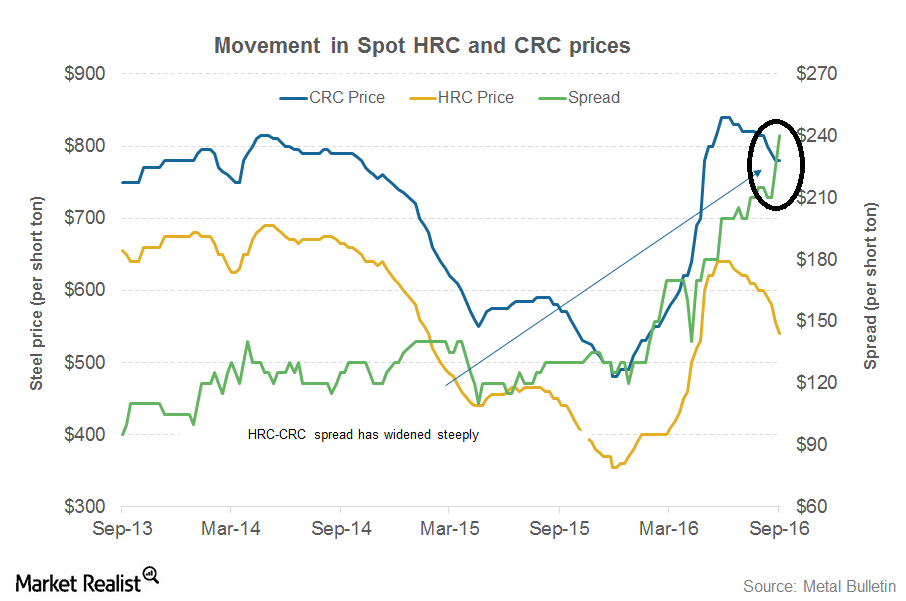 Why Analysts Have Not Revised U.S. Steel's Earnings Estimates
U.S. Steel's earnings estimate
Since the spectacular rally in US (DIA) spot steel prices between March and June 2016, we've seen some downward pressure on flat-rolled steel prices. Spot HRC (hot-rolled coil) prices have fallen more than $100 per short ton from their June peak.
However, despite these steep correction in HRC prices, we've not seen analysts cut U.S. Steel's (X) earnings estimates in a major way. The anomaly could be explained in twoways.
Article continues below advertisement
HRC prices
While HRC prices have fallen steeply, CRC (cold-rolled coil) products have largely held their ground. As a result, the HRC-CRC spread has surged to $240 per short ton or double its historical average.
According to U.S. Steel (X), 33% of its flat-rolled shipments in fiscal 2015 consisted of CRC products. U.S. Steel is among the biggest benefactors of higher CRC prices. Note that ~20% of Nucor's (NUE) sheet shipments are in the CRC category. For AK Steel (AKS), CRC formed 16.5% of its consolidated 2Q16 steel shipments.
HRC shipments
HRC accounted for less than one-third of U.S. Steel's consolidated fiscal 2015 flat-rolled shipments. The negative impact from lower HRC prices would thus be felt only on the company's HRC shipments. Strong CRC prices could be one reason analysts have not downwardly revised U.S. Steel's earnings estimates.
Also, analysts were factoring in some degree of correction in spot steel prices in arriving at their earnings estimates.
Nonetheless, even if we account for the above-mentioned factors, U.S. Steel's earnings estimates still look aggressive. We'll discuss this more in the next part of the series.
Investors looking to diversify the risk of investing in a single security can also consider the SPDR S&P Global Natural Resources ETF (GNR). Almost 20% of GNR's holdings are invested in steel and other metal companies. Notably, BHP Billiton (BHP) and Rio Tinto (RIO) together make up 5.6% of GNR's portfolio.