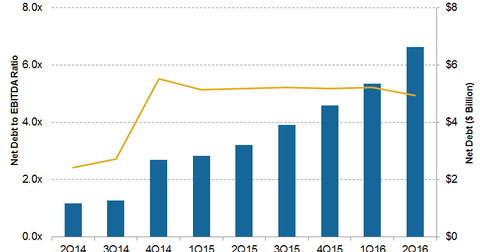 Whiting Managed to Reduce Its Net Debt in 2Q16
By Keisha Bandz

Updated
Whiting's net debt-to-EBITDA
Whiting Petroleum's net debt-to-adjusted EBITDA (earnings before interest, tax, depreciation, and amortization) has steadily increased since 4Q14. In 2Q16, Whiting's net-debt-to-adjusted-EBITDA multiple was ~6.6x.
As the graph below shows, Whiting's net debt was steady at ~$5 billion between 1Q15 and 1Q16. It adjusted EBITDA, meanwhile, declined considerably during this period, which explains the increase in its net debt-to-adjusted EBITDA ratio.
In 2Q16 WLL's net debt dropped on a sequential basis and on a Yoy (year-over-year) basis, but its 2Q16 trailing-12 month adjusted EBITDA dropped more significantly, pushing its net debt-to-EBITDA multiple higher.
Whiting's 2Q16 net debt was ~$4.9 billion, as compared to $5.18 billion in 2Q15 and ~$5.22 billion in 1Q16. Its trailing-12-month adjusted EBITDA as of 2Q16 was ~$747 million, as compared to its 2Q15 trailing 12-month EBITDA of ~$1.6 billion and 1Q16 trailing 12-month EBITDA of ~$975 million.
Article continues below advertisement
Peer comparisons
Upstream peers Oasis Petroleum (OAS) and EP Energy (EPE) saw their 2Q16 EBITDAs for the trailing 12 months fall by 50% and ~48%, respectively.
After its Kodiak Oil and Gas acquisition in 2014, WLL took on a lot of debt—$5.2 billion as of December 31, 2015. Since then, the company has been working on improving its financial position. (Refer to Part 4 and Part 10 of this series for more on the company's key objectives and efforts.)
Like Whiting, Chesapeake Energy (CHK) has resorted to similar measures to address its debt. In May 2016, Chesapeake announced plans to issue 4.1% of its outstanding equity in exchange for debt.
Notably, CHK and WLL combined make up 1.1% of the iShares US Oil & Gas Exploration & Production ETF (IEO).
In the next part, we'll look at Whiting's free cash flow.