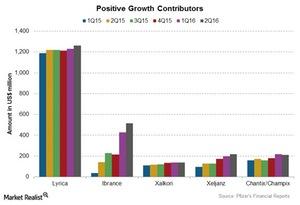 Which Products Were Key Contributors to Pfizer's Revenue Growth?
Revenue growth drivers
Previously we discussed Pfizer's (PFE) revenues and growth trends. To better understand the factors affecting growth, let's now explore Pfizer's product portfolio and pipeline. The key performers in the product portfolio include Lyrica, Ibrance, Xeljanz, and Eliquis from the Innovative Health business.
Article continues below advertisement
Products with positive growth
There were several products that contributed towards Pfizer's positive growth.
Lyrica revenues rose 3.5% YoY (year-over-year) to $1.3 billion in 2Q16, primarily due to a 21% increase in sales in the US markets and a 3% increase in sales in international markets.
Ibrance, the new blockbuster drug to treat advanced breast cancer, was launched in February 2015. It reported revenues of $514 million in 2Q16, compared with $140 million in 2Q15, due to a strong response from the healthcare practitioners.
Chantix (also known as Champix) revenues increased by over 23% to $213 million in 2Q16.
Although they form a small business line, the company's Xalkori and Xeljanz products achieved sales of $137 million and $217 million, respectively, during 2Q16. Xalkori's revenue grew 15%, while Xeljanz's revenue rose by over 70% YoY.
EpiPen, one of the key products of Mylan (MYL) contains drug manufactured by Pfizer. Pfizer reported 10% increase in EpiPen revenues at $93 million for 2Q16.
Alliance revenues increased by ~21% to $376 million in 2Q16, compared with $311 million in 2Q15. Alliance revenues include Eliques, Rebif, Spiriva, and Aricept. Overall, Alliance revenues have decreased over the past few years due to the expiration of the Enbrel and Spiriva collaborations.
Every pharmaceutical company has a key product it depends on for revenues. For example, Humira, a product for arthritis, is the major revenue contributor for AbbVie (ABBV). Humalog and Cymbalta are among Eli Lilly and Company's (LLY) seven key drugs, contributing over $1 billion revenue annually. Crestor and Nexium are among AstraZeneca's (AZN) four key products, contributing over $1 billion revenue annually. To divest risk, nvestors could consider ETFs such as the Fidelity MSCI Health Care ETF (FHLC), which has a ~6.6% exposure to Pfizer.