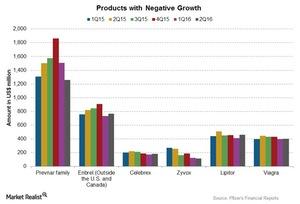 Which Pfizer Products Reported Declining Sales?
By Mike Benson

Updated
Products with declining revenues
So far, we've discussed growth trends and positive growth products for Pfizer (PFE). Let's now discuss the products that hampered growth. The overall share of revenues for the Essential Health business increased to 46% of total revenues in 2Q16 from 44% of total revenues in 2Q15, driven by revenue growth from sterile injectable pharmaceutical products and offset by the loss of the exclusivity of two key products, Celebrex and Zyvox.
Article continues below advertisement
Products with declining sales
Prevnar revenues fell by 16% from the previous quarter, following lower demand for Prevnar 13 in the United States during 2Q16. In 2Q16, the total contribution of the Prevnar family was $1.3 billion, compared with $1.5 billion in 2Q15.
Viagra sales fell by 9% to $401 million in 2Q16, compared with $448 million in 2Q15, due to patent expiry and pricing pressure.
Sales of Zyvox, an antibiotic, fell by ~56% to $114 million in 2Q16, compared with $259 million in 2Q15, following the loss of exclusivity in May 2015.
Sales of Celebrex, a non-steroidal anti-inflammatory drug, fell by over 18% to $183 million in 2Q16, compared with $224 million in 2Q15, following the loss of exclusivity in December 2014. Celebrex revenues are constantly falling and have declined by over 75% since the loss of exclusivity.
Enbrel, a drug for the treatment of spondylitis, psoriasis, and arthritis, achieved sales of $766 million in 2Q16 outside the United States and Canada, a decrease of ~7% from the $822 million reported in 2Q15.
Sales of Lipitor, a drug for reducing blood cholesterol and triglycerides, fell by ~9% to $461 million in 2Q16, compared with $509 million in 2Q15, following continued generic competition in developed markets. This effect was partially offset by growth in emerging markets.
No major changes in revenues due to the loss of exclusivity are anticipated in the near future. The loss of exclusivity impacts the revenues of any pharmaceutical company. Blockbuster drugs that lost their exclusivity in 2015 include Copaxone by Teva Pharmaceutical Industries (TEVA), Gleevec by Novartis (NVS), and Avodart by GlaxoSmithKline (GSK). The impact of these drugs will be reflected in 2016 sales figures. Investors who would like to divest risk could consider ETFs such as the iShares US Pharmaceuticals ETF (IHE), which has an ~8.5% exposure to Pfizer.