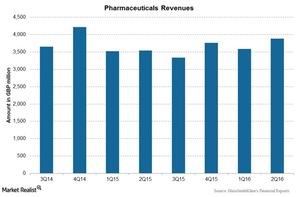 What's the Problem with GSK's Pharmaceutical Segment?
By Mike Benson

Updated
The pharmaceutical segment
GlaxoSmithKline's (GSK) pharmaceutical segment has fallen substantially in 2015 due to the divestment of its oncology business to Novartis (NVS) in March 2015. At constant exchange rates, the pharmaceutical segment reported a 2% growth in 2Q16 revenues to 3.9 billion pounds as compared to 3.5 billion pounds for 2Q15. The growth was driven by increased sales of HIV products Triumeq and Tivicay and new pharmaceutical products, and was partially offset by lower sales of Seretide and Advair.
Overall, the pharmaceutical segment's contribution to total revenues fell from 60.4% in 2Q15 to ~59.4% in 2Q16. Let's now look at the subsegments in the pharmaceutical segment.
The pharmaceuticals segment is classified into two franchises as follows:
HIV products, classified under ViiV Healthcare
Global Pharmaceuticals, which deal with respiratory, cardiovascular, metabolic, urology, immuno-inflammation, and established products
Article continues below advertisement
HIV products
The HIV products are marketed under ViiV Healthcare, a company with GSK as a major shareholder. Pfizer (PFE) and Shionogi are other shareholders. The company completed the acquisition of Bristol-Myers Squibb's (BMY) R&D HIV assets on February 22, 2016, to strengthen its position in HIV products. HIV products reported growth of 44% at constant exchange rates to 865 million pounds in 2Q16 over 2Q15.
Global pharmaceuticals
The global pharmaceuticals deal with respiratory, cardiovascular, metabolic and urology, immuno-inflammation, and established products. The global pharmaceuticals reported revenues of 3.0 billion pounds in 2Q16.
Investors can consider ETFs like the Vanguard FTSE Europe ETF (VGK), which holds 1.3% of its total assets in GlaxoSmithKline, in order to divest the risk.