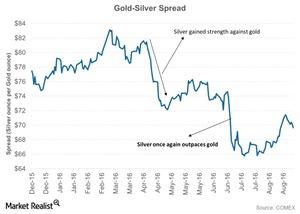 What's behind the Fall in the Gold-Silver Ratio?
By Meera Shawn

Updated
Gold-silver ratio
Gold and silver have been weak for the past few weeks. However, silver has substantially outperformed gold year-to-date. Silver has risen by 43.4% since the beginning of 2016, while gold has risen by 27.1% during the same timeframe.
The gold-silver spread, or the gold-silver ratio, is an important element to consider when performing a comparative study of these two precious metals. The gold-silver ratio was 68 on September 7, 2016, substantially lower than the previous week's 69.6 level.  The ratio suggests that it takes almost 78 ounces of silver to buy a single ounce of gold. The spread has fallen drastically since 2016 started.
Article continues below advertisement
Silver outperformed gold
Silver's performance was remarkable in 2Q16. The ratio fell to its lowest level in three decades in 2011 when gold climbed to a record high. In a bull market for precious metals, silver usually outperforms gold. The opposite tends to be the case in a bear market.
Although silver fell last month, it's regained much of its lost strength over gold during the past week, resulting in a fall in the gold-silver ratio once again.
The relative performances of gold and silver can be seen in funds such as the iShares Silver Trust ETF (SLV) and the SPDR Gold Shares ETF (GLD). These two funds have seen year-to-date rises of 42.4% and 26.4%, respectively.
The mining shares that rose on September 7 due to the renewed strengths of gold and silver include Buenaventura (BVN), Pan American Silver (PAAS), and Silver Wheaton (SLW). These three equities rose by 1.4%, 0.27%, and 1.3%, respectively. Combined, these three miners make up 9.8% of the price fluctuations in the the VanEck Vectors Gold Miners ETF (GDX).