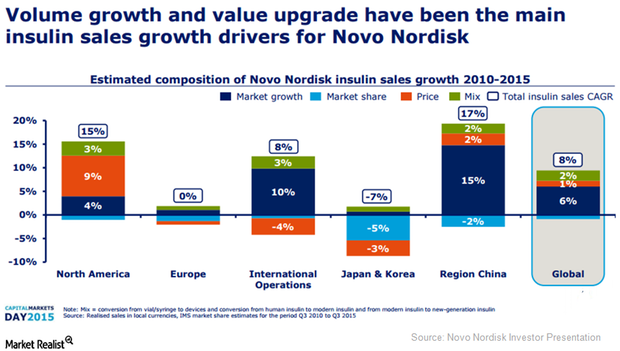 Volume Growth and Product Mix to Drive NVO's Insulin Sales
By Margaret Patrick

Oct. 3 2016, Updated 8:06 a.m. ET
Insulin sales
From 2011 to 2015, Novo Nordisk's (NVO) diabetes care franchise sales have risen at a compounded average growth rate (or CAGR) of approximately 11.5%. This figure includes growth in insulin sales of about 8% and double-digit growth in the sales of glucagon-like peptide-1 (or GLP-1) analogue therapies. Novo Nordisk has thus managed to significantly increase its market share in the injectable segment of diabetes drugs, posing tough competition to other diabetes players such as Merck (MRK), Eli Lilly (LLY), and Sanofi (SNY).
The above diagram shows that the CAGR for Novo Nordisk's insulin sales from 2010 to 2015 has been the highest in China at around 17%, followed by North America at 15%, International Operations at 8%, Europe at 0%, and -7% in Japan and Korea.
Article continues below advertisement
Volume growth
Market growth, or growth in volumes, has contributed about 6% to Novo Nordisk's global insulin sales CAGR of 8% from 2011 to 2015. The majority of the volume growth was concentrated in emerging economies comprising of the company's China and International Operations segments, followed by North America. Novo Nordisk expects this trend to continue in its International Operations segment, while China is expected to witness growth in insulin volumes in the range of 5%–10% in the future.
Market share
Since 2011, Novo Nordisk has witnessed a loss of market share in China and Japan & Korea in the insulin segment, mainly on account of reduced sales of its modern insulin therapies. While the loss in market share has been the highest for the company in the Japanese market, Novo Nordisk expects to reclaim this share through its new-generation basal insulin, Tresiba. The launch of next-generation insulin therapies is also expected to help Novo Nordisk win back market share in its International Operations and Europe segments.
Article continues below advertisement
Price
Novo Nordisk has been positively affected by increasing insulin prices in the North American market from 2011 to 2015. However, due to the US government's increasing focus on controlling drug prices, this trend is not expected to continue in the future.
Product mix
Changing product mixes such as using devices to deliver insulin instead of vial and syringe, the shift from human insulin to modern insulin, and the launch and further development of next-generation insulin therapies have been a major factor driving Novo Nordisk's insulin sales from 2011 to 2015. This trend is expected to continue in future years, boosting the company's profitability as well as share prices. The trend may also have a positive impact on share prices of the First Trust Value Line Dividend Index Fund (FVD). Novo Nordisk makes up about 0.49% of FVD's total portfolio holdings.