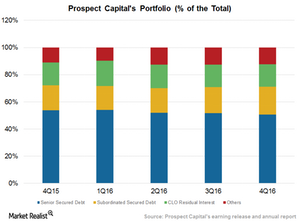 Volatility Continues to Cause Net Exits for Closed-End Funds
By Robert Karr

Sep. 22 2016, Updated 8:05 a.m. ET
Originations rising slowly
The availability of credit has improved significantly over the past five years. Companies have had various options for equities and debt offerings, and closed-end funds (PEX) now have a predetermined mandate or classification of companies for which they want to deploy funds.
Originations in the industry have been low during the past several quarters due to the global equity rout and difficult markets.
Prospect Capital (PSEC) made portfolio investments of $294 million in the June quarter, a substantial rise from its $23 million investment in the March quarter. These funds were deployed in multiple follow-on investments.
High market volatility and increasing competition for high-quality assets have led to lower originations in the first half of 2016. Prospect Capital's deployment is expected to rise at a slower pace in the wake of competition and with the expected rate hike by the Federal Reserve in 4Q16.
Prospect Capital's exits in the form of sales, repayments, and scheduled amortization payments stood at $383.5 million in the June quarter. The company's net investment exits totaled $89.5 million.
In comparison, Ares Capital (ARCC) made new investment commitments totaling $540 million. The company's exits in terms of repayment, selling, or other exits totaled $758.8 million during the second quarter of 2016.
Article continues below advertisement
BlackRock and Apollo Investment
BlackRock Capital Investment (BKCC) invested $76.3 million in 2Q16. Sales, repayments, and other exits of investments were at $161.4 million during the quarter, resulting in $85.1 million of net exits.
Meanwhile, Apollo Investment (AINV) made total investments of $122.7 million in the June 2016 quarter compared to $508.6 million in the June 2015 quarter and $178.5 in the March 2016 quarter. The company deployed a majority of its funds in the first lien, totaling $58.2 million.
AINV deployed $46.5 million in the second lien, reflecting increased deployment on a quarter-over-quarter basis in the second lien. The company sold $146 million in investments and repaid $193 million.
On the deployment front, Ares Capital and Prospect Capital are investing more in structured lending and second lien lending to improve their yields. Let's explore this further in the next part.