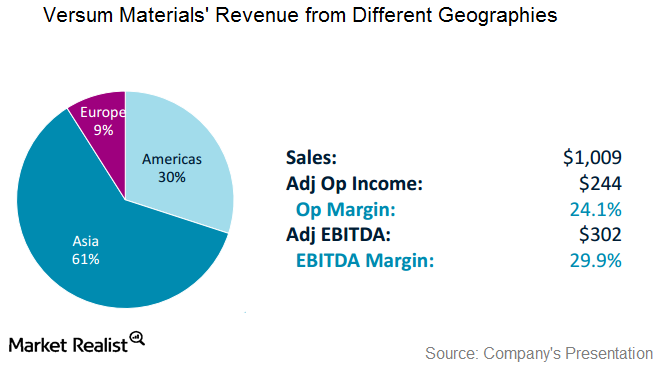 Versum to Be Added to the S&P Mid-Cap 400
By Peter Neil

Sep. 26 2016, Published 5:52 p.m. ET
Versum joins S&P midcap 400
Versum Materials (VSM), a spin-off company of Air Products and Chemicals (APD), will be added to the S&P MidCap 400 (MDY) after the close of trading on September 26, 2016. Versum will replace Abercrombie & Fitch (ANF) in the index. ANF will replace Basic Energy Services (BAS) in the S&P SmallCap 600. Air products and Chemicals will continue to be part of S&P 500 after the completion of the spin-off. Versum is expected to trade regularly from October 3, 2016, under VSM.
Article continues below advertisement
Versum prices its $425 million senior notes
Versum materials on September 21 announced the pricing of $425 million senior notes due 2024, with a coupon rate of 5.5%. The offer is expected to close on September 30, 2016, and will be offered to qualified institutional buyers, or QIBs. The proceeds will be used for debt exchange as a part of the spin-off from Air Products and Chemicals.
About Versum
Air Products and Chemicals spun off its electronic materials division and formed Versum. Versum recorded revenue of $1 billion in 2015, with 61% of the revenue coming from Asia region, 30% from Americas, and 9% from Europe. Versum will report its earnings under materials and delivery systems and services. Versum had ~1,900 employees. It has 14 manufacturing facilities and six research and development facilities and holds approximately 1,300 patents. The top clients include companies like Samsung, Intel (INTC), and TSMC.