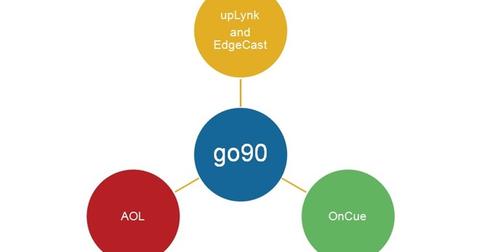 A Closer Look at Verizon's go90 Over-the-Top Service
By Shirley Pelts

Updated
Verizon's go90
In October 2015, Verizon (VZ) initiated go90, its mobile first OTT (over-the-top) service. The company has boosted this offering with a new version of the application.
According to a September 9 FierceCable report, Verizon's go90 content partners are not happy with the service. A content partner for Verizon's go90 told Digiday, "Based on the plan they had originally laid out, it would have been a mid-tier platform for us—millions of views per month, at worst—but it's turned out to be far, far worse than their projections."
The report cited analyst estimates that Verizon could have spent $200 million on original programming for the platform.
Article continues below advertisement
Verizon's expectations from go90
At the J.P. Morgan Global Technology, Media, and Telecom Conference in May 2016, Lowell McAdam, Verizon's (VZ) chairman and CEO, compared the performance of Verizon go90 with the company's expectations. McAdam stated, "I think we had always internally viewed go90 as what we call patient money inside the business that we knew, because it wasn't our core competency, we knew we were going to have to build slowly in this area."
McAdam added that Verizon was not expecting the service "to move the needle on a $130 billion revenue stream overnight."
How Verizon's acquisitions contributed to go90
According to Verizon, upLynk, a multi-device video encoding service, and EdgeCast, a content delivery network, enhanced its capabilities to distribute video content efficiently. Verizon bought these companies in 2013.
In 2014, Verizon (VZ) acquired OnCue, an Internet TV service, from Intel (INTC). Verizon used OnCue's technology in the go90 user interface. Verizon acquired AOL in 2Q15 and integrated AOL's content and advertising capabilities in the go90 service.