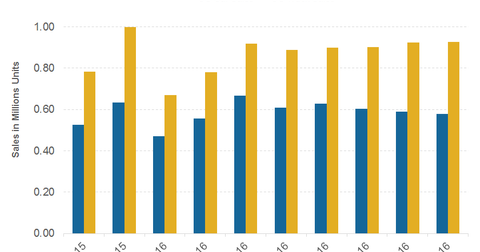 US Truck Sales Remain Firm despite Falling Overall Auto Sales in August 2016
By Jitendra Parashar

Updated
US truck versus car sales
In August 2016, US truck sales stood at 926,000 units—3.1% higher than the 898,000 units in August 2015. By contrast, US car sales in August 2016 fell to 579,000 units, as compared to 670,000 million units in August 2015. This car sales data suggests a significant YoY (year-over-year) decline of 13.6%. Let's take a closer look.
Article continues below advertisement
Truck sales SAAR remain strong
US truck sales SAAR (seasonally adjusted annual rate) have remained strong at ~10.4 million in August 2016, which is higher than the SAAR of ~10.1 million units we saw in August 2015. In July 2016, the SAAR of truck sales was even higher at ~10.9 million vehicles.
By contrast, the SAAR of US car sales fell to ~6.5 million units in August 2016, as compared to nearly 7.6 million units in August 2015, which is even lower than the SAAR of about 6.9 million we saw in July 2016.
Why does this matter?
Auto demand is considered one of the leading indicators for the economy, and we can't forget the fact that the auto industry (XLY) is highly cyclical in nature.
US auto sales data suggests that the demand for trucks has grown positively in the last few years. Meanwhile, the demand for small cars in the United States was significantly down. This trend can be seen as a positive indication for automakers that get the majority of their revenues from the United States. However, continuously large declines in overall auto sales in coming months could be seen as a warning sign of a slowdown going forward.
Mainstream automakers General Motors (GM), Ford Motor (F), Fiat Chrysler Automobiles (FCAU), and Toyota Motor (TM) are benefitting from the current trend, however, because trucks tend to have higher margins than cars.
Continue to the next part for a look at segment-wise vehicle sales in the US and its impact on automakers.