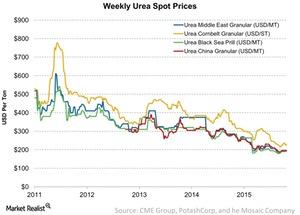 Have Urea Prices Hit the Bottom?
By Adam Jones

Updated
Urea
Urea is the most common nitrogen fertilizer used around the world. Keep in mind that nitrogen fertilizers need application each year unlike potash and phosphate fertilizers. So, tracking urea prices is critical for companies that have exposure to nitrogen fertilizers (FXZ). This includes CF Industries (CF), CVR Partners (UAN), Terra Nitrogen (TNH), and Agrium (AGU).
Article continues below advertisement
Granular urea
Average weekly prices of granular urea were flat to positive last week. In the Corn Belt region of the US, average weekly prices rose 2.2% to $208 per metric ton—compared to a week ago. However, prices in the Middle East stood at $196 per metric ton—unchanged from a week ago. Similarly, average weekly prices in China remained unchanged at $195 per metric ton—compared to a week ago.
Year-over-year, median prices of granular urea at the above three locations fell 32%. However, in the above chart, you can see that the prices appear to have bottomed at the current levels.
Prilled urea
Average weekly prices for prilled urea in the Black Sea rose 1% to $194 per metric ton last week. Prilled urea prices at this location fell 33%—compared to average weekly prices in the same week last year. This is similar to prices of granular urea.
In the next part, we'll look at prices of natural gas. It accounts for about two-thirds of nitrogen fertilizers' input costs such as ammonia and urea.