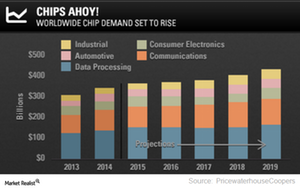 How True Are Cypress's Acquisition Rumors?
By Puja Tayal

Updated
Cypress's management change
In April 2016, Cypress Semiconductor's (CY) founder and CEO, Thurman John Rodgers, stepped down from his position and took on a smaller role after serving the company for almost 34 years. The position was taken up by Cypress executive vice president of Programmable Systems and Software Hassane El-Khoury on August 11, 2016. El-Khoury has been instrumental in the integration of Spansion.
Cypress's board chair, Ray Bingham, saw his role expanded to executive chair. Cypress isn't the only company to have seen a recent change in management. Recently, Marvell Technology (MRVL) witnessed a change in its top management, wherein its founders stepped down from their roles. This development ignited rumors of the potential acquisitions of Cypress and Marvell.
Article continues below advertisement
What makes Cypress a potential acquisition target?
Cypress acquired Broadcom's (AVGO) wireless IoT (Internet of Things) business as part of its strategy to expand in the high-growth automotive, industrial, and IoT communications markets.
Morgan Stanley analyst Adam Parker stated that there was a high probability of Cypress's being acquired in the next 12 months. He supported his statement with four points:
The company's founder stepped down in April 2016.
The company's stock has risen 20% so far in 2016.
The company is increasing its exposure in the high-growth and lucrative industrial, IoT, and automotive markets.
There have been rumors that the company has received acquisition offers from private equity companies.
Citing sources with knowledge of the matter, Betaville reported that Cypress had received buy offers from three private equity companies. It's looking for a price of $15 per share, which commands a premium of 25% from its current price of around $12. TPG Capital and Summit View Capital are rumored to be among the private equity companies interested in Cypress.
MKM Partners believes a Cypress acquisition is unlikely
MKM Partners analyst Ian Ing has stated that Cypress is unlikely to be acquired in the near term. He has supported his statement with three points, stating, "A deal doesn't appear imminent given (1) CY's elevated investor access activities since the new CEO appointment and Broadcom IoT acquisition, (2) Interest in seeking (and receiving) greater sell-side analyst coverage as the industry consolidates and (3) they believe they are now above the minimum hurdle rate on scale to sufficiently invest and succeed in their opportunities."
Next, let's take a look at the consolidation trend in the semiconductor industry.