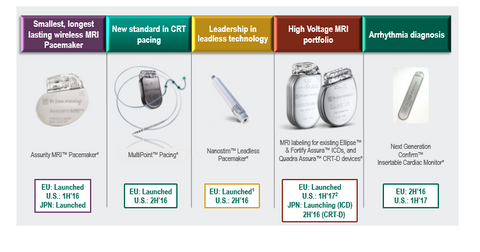 This Advisory Firm's Name Held True to Form for St. Jude Medical
By Sarah Collins

Sep. 16 2016, Published 12:30 p.m. ET
Muddy Waters' allegations against St. Jude Medical
On August 25, 2016, Muddy Waters Capital, a California-based investment advisory firm, announced its stock position as short on St. Jude Medical (STJ). It claimed that St. Jude Medical's implantable cardiac devices are vulnerable to cybersecurity threats.
Following the news, STJ stock fell as much as 10% during the day and registered a fall of around 5% at the end of the day.
According to Muddy Waters, it has "little doubt that St. Jude Medical is about to enter a period of protracted litigation over these products. Should these trials reach verdicts, we expect the courts will hold that St. Jude Medical has been grossly negligent in its product design." Muddy Waters claimed that St. Jude Medical's revenues will fall by more than half for at least two years due to device recalls.
Article continues below advertisement
Medtronic (MDT), Boston Scientific (BSX), and Edwards Lifesciences (EW) are some of the major cardiac device manufacturers that stand to gain from any market share loss by St. Jude Medical. You can gain exposure to St. Jude Medical by investing in the Health Care Select Sector SPDR ETF (XLV), which holds approximately 0.84% of its total holdings in STJ.
St. Jude Medical has filed a lawsuit against Muddy Waters
On September 7, 2016, St. Jude Medical sued Muddy Waters and research group MedSec for allegedly disseminating false information about St. Jude Medical in order to manipulate the stock price.
According to St. Jude Medical's chief executive officer Michael T. Rousseau, "We felt this lawsuit was the best course of action to make sure those looking to profit by trying to frighten patients and caregivers, and by circumventing appropriate and established channels for raising cybersecurity concerns, do not use this avenue to do so again."
St. Jude Medical has also provided a third-party assessment report by researchers at the University of Michigan. The report states that no evidence was found in support of Muddy Waters' security claims.