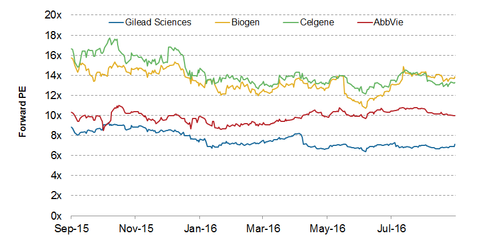 The Factors behind Gilead's Discounted Valuation
By Jillian Dabney

Updated
Is Gilead's discounted valuation justified?
On September 20, 2016, Gilead Sciences (GILD) was trading at a forward PE (price-to-earnings) multiple of 7.14x, which was at a discount compared to its peers.
That same day, Biogen Idec (BIIB), Celgene (CELG), and AbbVie (ABBV) were trading at multiples of 13.83x, 13.27x, and 10x, respectively, of their estimated earnings.
Celgene and Biogen were trading at a premium over the other two. The major factors behind their premium valuation is most likely the high growth prospects of their promising pipelines and existing products.
Article continues below advertisement
Why such a discount for Gilead?
GILD's average PE over the past year was 7.6x. It ranged from 6.0x to 9.0x of its estimated earnings over the period. Gilead lowered its revenue guidance for fiscal 2016 due to pressures on its HCV (hepatitis C virus) franchise. Investors viewed this move negatively, which led to an additional fall in its valuation multiple.
In the next part of this series, we'll take a detailed look at Gilead's projected sales for 2016 and 2017.
Success for Gilead's NASH (nonalcoholic steatohepatitis), inflammatory disease, and oncology pipelines might result in a higher valuation. Considering the prospects for the pipelines, Gilead seems to be trading at a huge discount.
Gilead's fundamentals
During the second quarter of 2016, Gilead's HCV product sales were off 33% followed by higher rebates and discounts and lower patient starts. With unpredictable patient flow, new starts remain a major challenge for the HCV franchise.
Generally, when revenues fall, companies hunt for strategic key asset acquisitions to drive their businesses. Gilead is no exception and is looking for a smart deal.
In fact, during the 2016 Morgan Stanley Global Healthcare Conference, the company hinted about building a lucrative oncology franchise with a particular interest in PARP (poly (ADP-ribose) polymerase) inhibitors. The market just might welcome a smart asset acquisition move, which could result in a rise in Gilead's share price.
To get exposure to Gilead and control excessive company-specific risks, you can invest in the iShares Nasdaq Biotechnology ETF (IBB). Gilead accounts for 8.2% of IBB's total holdings.