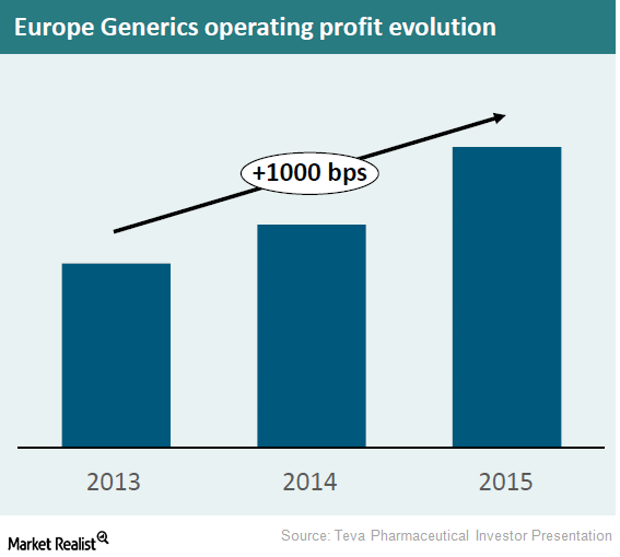 Teva's Generic Business and Its Transformation in Europe
By Margaret Patrick

Sep. 29 2016, Updated 8:04 a.m. ET
Significant transformation
Teva Pharmaceutical Industries (TEVA) is a leading generic player in the majority of the European markets, which helps the company report strong growth in profitability.
Since 2013, despite its large size and large scope of operations, Teva Pharmaceutical's European generics business has risen in operating profit margins by about 1,000 basis points. This rise is mainly due to its strategy of focusing on profitability rather than sales volumes. The company has further optimized its product portfolio and pays significant attention to managing its low profitability products.
Additionally, Teva Pharmaceutical boasts a healthy research and development (or R&D) pipeline for its generics business, which helps the company launch new products at a consistent pace. This has helped the company aggressively capture market share across multiple European countries.
A flexible and optimized cost structure and other commercial operations and strong relationships with customers have proved to be pivotal in boosting Teva Pharmaceutical's position in the European generics market.
If Teva Pharmaceutical's generic business continues its pursuit of excellence, it could raise the company's share prices as well as those of the Vanguard FTSE All-World ex-US ETF (VEU). Teva Pharmaceutical makes up about 0.50% of VEU's total portfolio holdings.
Article continues below advertisement
Top-performing markets
In the generics market in the United Kingdom, Teva ranks first, ahead of other players such as GlaxoSmithKline (GSK), Novartis (NVS), and Novo Nordisk (NVO). Teva's acquisition of Allergan Generics has also strengthened Teva's position in the over-the-counter (or OTC) segment in the United Kingdom.
Teva Pharmaceutical currently ranks second in the German generics market. The company has been actively involved in increasing its market share through solid positioning of the Ratiopharm brand as well as leveraging synergies between its generics and OTC businesses.
Italy has proved to be a prominent market for Teva Pharmaceutical, since the company's generic business has reported strong growth trends in the last three years. In addition to being a top-ranking player, there's a significant gap between Teva Pharmaceutical and the second-ranked generic player in Italy. Teva accounts for about 20% of the total Italian generic market. With limited generic penetration, the company expects to continue its robust growth prospects in this pharmacy-driven market due to its relationships with physicians and pharmacies.
Teva Pharmaceutical also ranks first in Switzerland's generics market. Since Switzerland is a high-value, high-profitability market, it offers significant growth opportunities for Teva in the future.
While Teva Pharmaceutical had no presence in the Bulgarian market prior to the Teva–Allergan Genercis deal, the new combined company currently holds a top position in that market. The deal has thus improved Teva's overall presence in the branded generics market around the world.
In the next part, we'll explore Teva Pharmaceutical's opportunities in the growth markets.