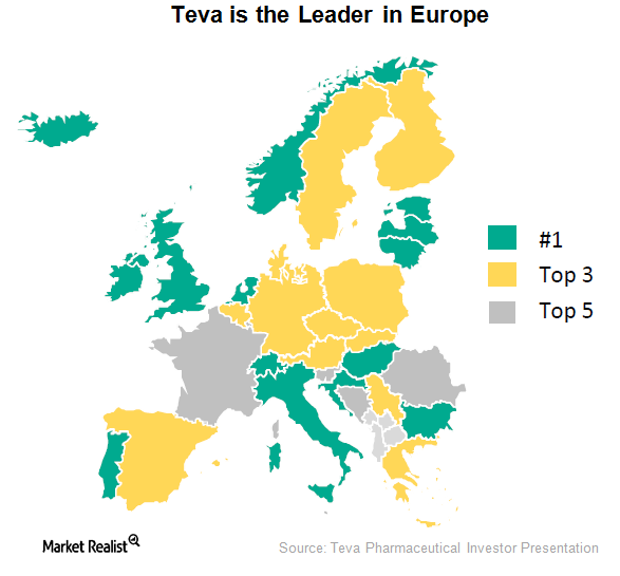 Teva Is Well Placed to Dominate the European Generics Market
By Margaret Patrick

Sep. 28 2016, Updated 10:05 a.m. ET
The European generics market
Since the European generics market has been reporting a modest annual growth rate of about 2.5%, companies require scale to optimize their cost structures. They also require top market position to successfully negotiate with other players and penetrate deeply into the market. Generic pharmaceutical companies in Europe also need to have a robust research pipeline, which can help them consistently launch multiple innovative products in the marketplace.
The European Union is comprised of 28 countries, each with different market dynamics. In order to successfully penetrate the generic market in the European Union, generic players need to have the following:
flexible commercialization model
optimal cost structure
the ability to leverage operations in other segments such as branded pharmaceuticals and over-the-counter (or OTC) drugs
Article continues below advertisement
Since Teva Pharmaceutical (TEVA) meets most of these requirements, it's well placed to succeed in the European generic market. This may cause a rise in the company's share prices as well as those of the SPDR MSCI ACWI ex-US ETF (CWI). Teva Pharmaceutical makes up about 0.30% of CWI's total portfolio holdings.
Leader in Europe
The above diagram shows the ranking of Teva Pharmaceutical in various regions in the European Union after the addition of Allergan's generics business to Teva's portfolio. Teva is in the first three positions in 26 countries in the European Union. The Teva–Allergan Generics deal has enabled the company to expand its product portfolio as well as geographic presence. The deal helped Teva better penetrate the branded generics market of Eastern Europe.
Allergan Generics also added a strong OTC drug portfolio, which may witness significant growth in the United Kingdom and other countries in the Nordic region. The deal synergies are expected to be a strong growth opportunity for the company in the future.
Teva Pharmaceutical currently employs about 2,300 sales people who help create an awareness of the company's products among the patient and physician communities. The integrated sales model further enables the company to market itself effectively to wholesalers, pharmacies, and other local, regional, and national customers.
Teva's research pipeline is comprised of about 272 novel programs. They're expected to result in 800 to 1,000 launches annually across geographies and dosages. The company also plans to launch generic versions of about 85% of the drugs that are scheduled to expire in the European Union prior to 2021.
With a robust growth strategy in place for the European Union market, Teva Pharmaceutical is expected to pose tough competition to other generic players such as GlaxoSmithKline (GSK), Mylan (MYL), and Pfizer (PFE).
In the next part, we'll look at Teva Pharmaceutical's commercial strategy for the European Union in more detail.