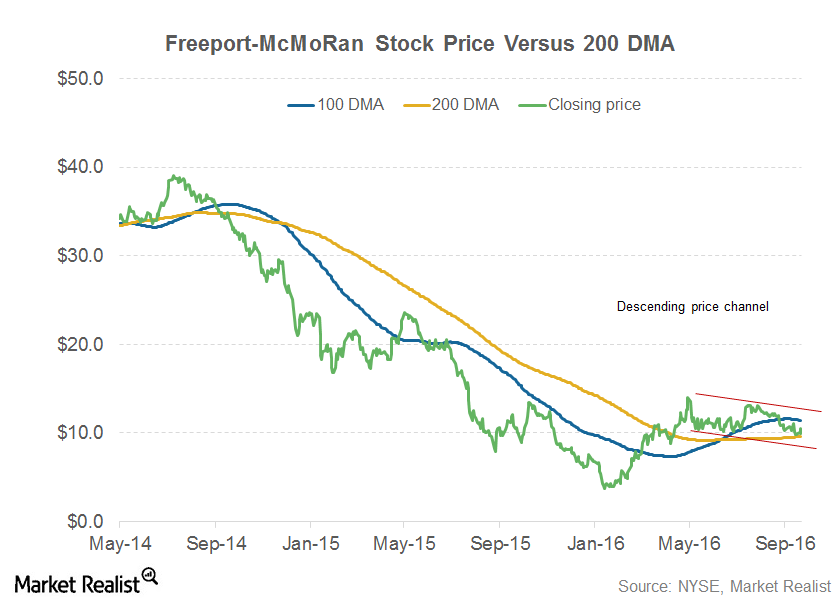 Tech Matters: Freeport Finds Solace near Key Support Level
Key support level
Traders and investors analyze technical aspects while making market entry and exit decisions. Resistance and support levels are among the most commonly used technical parameters. Before we look at Freeport's key resistance levels, we'll see why resistance and support levels are important.
Article continues below advertisement
Importance
Support levels typically act as a floor for stock prices. As a stock approaches its support levels, more buyers emerge while selling pressure generally subsides. However, if the stock fails to hold its support levels, bears take charge and push the stock even lower. If a stock breaches its support level, the price level generally becomes a near-term resistance for the stock.
A resistance level is the opposite of a support level. It's a price level at which a stock faces selling pressure.
Freeport's near-term support
Freeport-McMoRan (FCX) has been in a falling price channel, as you can see in the above graph. Due to the recent negative price action, the stock is trading below its 100-day moving average. However, BHP Billiton (BHP), Teck Resources (TCK), and Rio Tinto (RIO) are trading above their respective 100-day moving averages.
Meanwhile, the 100-day moving average and 200-day moving average have acted as crucial resistance and support levels for Freeport, as you can see in the above graph. Based on the closing prices on September 21, Freeport is trading 9.8% above its 200-day moving average. The stock bounced back from its 200-day moving average as the Fed kept benchmark rates unchanged on September 21.
If the stock fails to hold onto its 200-day moving average, bears (SDS) might start fancying their chances. On the upside, Freeport could face resistance near its 100-day moving average. The 200-day moving average and 100-day moving average could be the near-term support and resistance levels for Freeport.
Along with these technical aspects, it's also important to look at various fundamental drivers. Let's start by looking at the recent trend in copper prices.