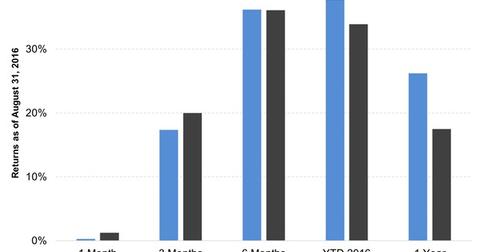 T. Rowe Price's Stock Picking Skills for Latin America in Focus
By David Ashworth

Updated
Performance evaluation of the T. Rowe Price Latin America Fund
So far in 2016 as of August's end, the T. Rowe Price Latin America Fund (PRLAX) stands third among the seven funds under review in this series. In the one-year period, the fund has placed second.
We've graphed PRLAX's performance against that of the iShares Latin America 40 ETF (ILF). Let's look at what's contributed to the fund's performance in the first part of 2016.
Article continues below advertisement
Contribution to returns
Preference shares of Itaú Unibanco Holding (ITUB) have driven the financials sector's returns up with help from preference shares of Banco Bradesco (BBDO). Grupo Aval Acciones y Valores (AVAL), Grupo Financiero Galicia (GGAL), and Banco Santander-Chile (BSAC) have also pushed the sector's returns up.
Consumer staples, PRLAX's second-largest invested sector, has followed financials in terms of positive contributions. Raia Drogasil and Ambev (ABEV), in that order, have been the biggest positive contributors from the sector. The consumer discretionary sector has closely tailed consumer staples in terms of positive contributions. The sector has been led mainly by Lojas Renner.
Note that no sector in which PRLAX invests has contributed negatively to the fund year-to-date. Compañía de Minas Buenaventura (BVN) has led the materials sector, while TIM Participações (TSU) has boosted telecommunications services. However, America Movil (AMX) has dragged on telecommunications services quite a bit. Meanwhile, Tenaris (TS), the fund's sole holding from the energy sector, has contributed positively to its returns.
Investor takeaway
PRLAX has remained relatively steady, with its portfolio and stock-picking skills on display. It has outperformed the passively managed ILF. It's underperformed a couple of its peers due to some major negative contributions from its telecommunications services and real estate sector picks.
PRLAX is the largest in terms of asset size among all the funds in this review, showing that much of the money invested in Latin American mutual funds has been entrusted to this fund. Though its performance hasn't been outstanding, it could make a good entry point for investment in Latin American equities.
In the next article, let's take a look at the Deutsche Latin America Equity Fund Class A (SLANX).