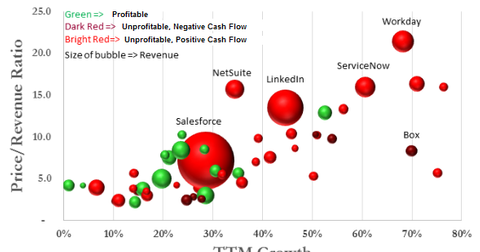 Why T. Rowe Price Sees the NetSuite Deal as Undervalued
By Anne Shields

Updated
Does Oracle's buyout offer undervalue NetSuite's expertise and investments in SaaS space?
Earlier in the series, we discussed the concerns T. Rowe Price has raised in regards to Oracle's (ORCL) buyout of NetSuite. Among the various reasons behind T. Rowe Price's opposition to Oracle's current offer, one is that Oracle's offer price for NetSuite doesn't consider the latter's "subscription-software platforms" and investments in SaaS (software-as-a-service) companies. Thus, the firm believes that the resultant scale, market position, and competitive advantage NetSuite enjoys from these investments were also ignored while considering its valuation.
Article continues below advertisement
LinkedIn (LNKD), Concur, and Ariba (SAP) were some of the companies NetSuite has invested in. SaaS is expected to be the fastest-growing cloud service through 2018. SaaS is expected to grow at a compounded annual growth rate (or CAGR) of 33%, whereas the cloud market as a whole is expected to grow at a CAGR of 24%.

SaaS is expected to witness increased M&A
According to Investor's Business Daily, JPMorgan Chase analyst Mark Murphy stated that "strong SaaS providers with sticky customer bases are attractive assets as the world gravitates toward public cloud offerings." Continuing with this trend, Pacific Crest Securities analyst Brendan Barnicle said that "it's likely that SaaS multiples will continue to increase and we expect much more M&A activity in SaaS."
The changing IT landscape has pushed Microsoft (MSFT), IBM (IBM), Oracle, and SAP towards the cloud-based model. Cloud-based revenues are preferred because they lead to more predictable recurring revenues. The above chart by CloudStrategies shows the relationship between the growth and price-to-revenue ratios of public SaaS companies.
It is this higher growth expected in the SaaS space that has fueled M&A activity. It is expected to gain further momentum in the future. So far in 2016, we've seen several acquisitions of SaaS companies by leading technology companies like Opower, Textura, and NetSuite by Oracle, and Demandware by Salesforce (CRM).