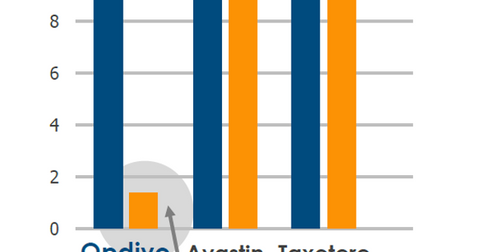 What Could Drive Sales from Bristol-Myers Squibb's Cancer Drug even Higher?
By Margaret Patrick

Sep. 19 2016, Updated 9:05 a.m. ET
Strong demand trends
Having established itself as a standard of care for second-line lung cancer and second-line kidney cancer, Bristol-Myers Squibb's (BMY) Opdivo is expected to witness strong patient demand in 2016. In the US, the drug has also received a strong response as a combination therapy (with Yervoy) for the treatment of melanoma.
The above diagram shows that compared to other oncology drugs such as Sanofi's (SNY) Taxotere and Roche Holdings' (RHHBY) Avastin (through subsidiary Genentech)—both of which require about ten years to obtain approvals for nine indications—Opdivo has managed to secure approvals for those labels in about 18 months.
Article continues below advertisement
Phase 3 trials
Bristol-Myers Squibb has so far completed approximately 13 Phase 3 trials to test the efficacy and safety profile of Opdivo across multiple labels. Five of these trials were stopped early because the drug demonstrated a survival advantage compared to the previously prescribed standard of care.
The drug has also been granted six breakthrough therapy designations by the FDA (US Food and Drug Administration), which further highlights its superior profile. In addition to the ongoing registrational trials, Bristol-Myers Squibb also plans to explore Opdivo for 14 more tumors.
Strong research and development prospects, accelerated approvals, the robust pace of its market launch, and rapid adoption by the patient and physician communities are expected to drive the drug's revenue growth in the future. The drug is enabling Bristol-Myers Squibb to pose strong competition to other oncology players such as Merck (MRK) and Amgen.
Article continues below advertisement
Segment performance
In the US, Opdivo's sales were primarily driven by demand from the lung cancer and renal cancer segments. The combination therapy of Opdivo and Yervoy, which was approved by FDA on January 23, 2016, has also become the most prescribed regimen for first-line metastatic melanoma.
Opdivo has also witnessed significant demand in German markets for second-line, non-small cell lung cancer and first line melanoma. While the drug has managed to capture 80% of the programmed cell death protein 1 (or PD-1) inhibitor market in France, Bristol-Myers Squibb could not record these revenues because the company is currently operating under Temporary Authorisations for Use.
According to L'Agence Francaise de Securite Sanitaire des Produits de Sante, the "Temporary Authorisations for Use" procedure is "an exceptional measure making available medicinal products that have not yet been granted a Marketing Authorisation." But the company has yet to complete reimbursement related negotiations in France.
With favorable negotiations, Opdivo's revenues could witness a positive push in 2016 and help boost Bristol-Myers Squibb's share prices, which could also increase the share prices of the iShares Core S&P 500 ETF (IVV). The company makes up about 0.49% of IVV's total portfolio holdings.