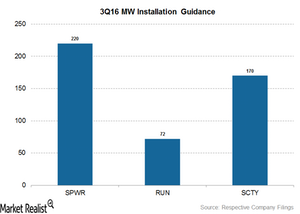 Solar Companies See Pressure to Improve Top Line Growth in 3Q16
By Sheldon Krieger

Nov. 20 2020, Updated 4:07 p.m. ET
Guidance analysis
Following 2Q16, major downstream solar (TAN) companies such as Sunrun (RUN), SolarCity (SCTY), and SunPower (SPWR) have revised their 2016 guidances downward. 
Vivint Solar (VSLR) had a 2016 MW (megawatt) installation guidance of 260 MW. However, the company didn't provide any update on its guidance in its latest company filings.
For the coming quarter, Sunrun and SolarCity have pegged their MW installation guidances at 72 MW and 170 MW, respectively. The combined 3Q16 MW installation guidance of SunPower's residential and commercial segments stands at 220 MW.
Article continues below advertisement
Analysts' expectations
Analysts expect an improvement in the top line growths of the majority of downstream solar players in 3Q16. Moreover, analysts also anticipate slight improvement in these companies' margins in 2H16.
For 3Q16, analysts expect a 93% improvement in the SunPower's revenue compared to 2Q16. They anticipate rises of 8% and 26%, respectively, in the revenues of Sunrun and Vivint Solar.
Analysts expect SunPower to report revenue of $775 million in 3Q16 compared to $402 million in 2Q16. This expected rise in revenue is mainly due to the company's anticipated recognition of revenue from the sale its substantial stake in the Henrietta project to Southern Company (SO).
Analysts anticipate that SolarCity will report revenue of $168 million in 3Q16, down from $186 million in 2Q16.
Industry outlook
As discussed earlier, the downstream solar business is capital intensive, and the future growth of incumbent players largely depends on their abilities to raise capital at low costs.
Therefore, it's important for downstream solar players to continue the monetization of their assets to fund their expansions and generate positive cash flows from operations. In the long term, the growth of the downstream solar industry depends on the implementation of the CPP (Clean Power Plan) and other environmental regulations.