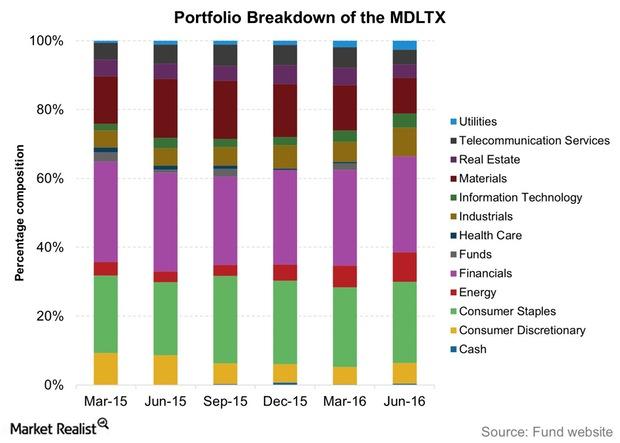 Sectoral Composition of BlackRock's Latin America Fund
By David Ashworth

Sep. 9 2016, Published 3:15 p.m. ET
BlackRock Latin America Fund overview
The BlackRock Latin America Fund (MDLTX) seeks long-term growth of capital by investing "primarily in Latin American equity and debt securities."
The fund's management doesn't seek to spread its portfolio across a large number of countries in Latin America. It adopts both top-down and bottom-up research approaches when constructing the fund's portfolio. The top-down approach lets management select potentially outperforming markets, while the bottom-up approach helps management select individual securities.
The fund's assets were invested across 58 holdings in July 2016, down from 68 in April. It was managing assets worth $174.1 million as of August's end. In July, its equity holdings included Banco Bradesco (BBD), BRF (BRFS), Telefônica Brasil (VIV), Grupo Televisa (TV), and CEMEX (CX).
Article continues below advertisement
Portfolio changes in the BlackRock Latin America Fund
Financials is MDLTX's top sectoral component, followed by consumer staples. Energy has made an entrance into the fund's top three invested sectors, replacing materials. The top three sectors form 64% of the fund's holdings. No other sector forms one-tenth or more of its assets. The fund isn't invested in the healthcare sector.
Compared to the MSCI EM Latin America Index, MDLTX is overweight the energy, consumer staples, and information technology sectors. Meanwhile, it's sharply underweight the utilities sector.
We've looked at the quarterly portfolios of MDLTX for the past three years leading up to June 2016. Among the consumer-focused sectors, the consumer discretionary sector is out of favor with the fund's management, which has turned its focus to consumer staples. Management lost interest in the energy sector until 3Q15, but since then, the fund's exposure to the sector has increased quite noticeably. The fund was last invested in the healthcare sector in 1Q16.
What's contributed to MDLTX's performance so far in 2016? Let's find out.