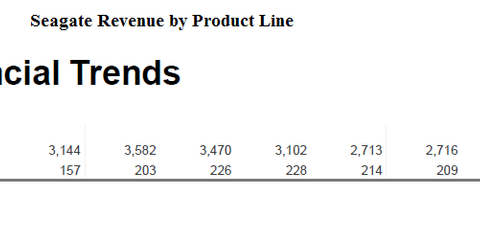 How Seagate Is Addressing the Market Shift to Enterprise Storage
By Adam Rogers

Updated
Enterprise revenue rose to 45% of total HDD revenue
In the quarter ended June 2016, Seagate's (STX) addressable HDD (hard disk drive) market was higher than previously forecasted. This positively affected revenue and profit margins for fiscal 4Q16. As seen in the previous part of the series, demand for product segments such as nearline enterprise HDD was stronger than expectations.
Seagate's eight TB (terabyte) nearline enterprise products were its leading revenue SKUs (stock keeping unit), driven by enterprise revenue that accounted for 45% of total HDD revenue. Seagate's PC client shipments were 25% of HDD revenue in fiscal 4Q16, which shows a shift toward client-server storage environments.
Article continues below advertisement
Need to optimize manufacturing footprint
Seagate stated that it continues to make important strategic decisions. The firm has decided not to aggressively participate in certain segments of the low-capacity notebook and gaming market where the higher gross margin should mean lowering long-term manufacturing investment.
As Seagate is looking to manage this shift in its product portfolio and customer demand, the company is aligning the operating model of its HDD business to optimize its manufacturing footprint. Seagate stated that it now wants to reduce capital expenditure in order to maintain capital requirement levels at approximately 5% of total revenue in fiscal 2017. This will allow Seagate to operate at or near full capacity.
In early 2016, Seagate started reducing HDD manufacturing capacity from approximately 55 million–60 million drives per quarter to 35 million–40 million drives per quarter. According to the CFO of Seagate, David Morton, "The actions required will be completed within the next six to nine months. At the same time, we are continuing to accelerate the utilization of our own drive factories, internal head and media facilities."