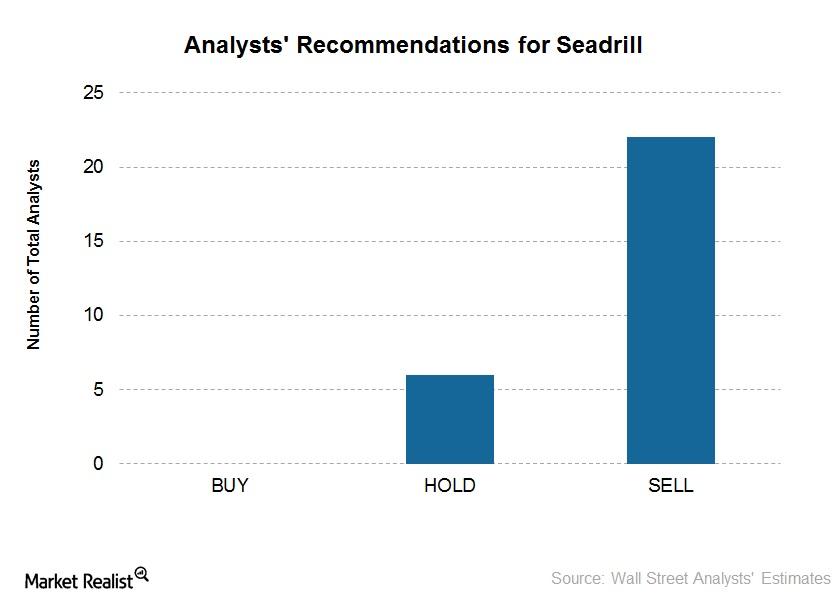 Seadrill: Why No 'Buy' Recommendations?
Majority recommends "sell"
Currently, 28 analysts give recommendations on Seadrill (SDRL). Of these, none have given a "buy" recommendation on the stock. Six analysts have given a "hold" recommendation, and 22 have a "sell" recommendation. The consensus target price is $1.78, which implies a downside of 17%.
Article continues below advertisement
Handelsbanken is the most bullish on Seadrill, with a target price of $10.26. The stock's lowest target price of $0.12 comes from Canaccord Genuity. Clarkson had dropped Seadrill from its coverage, but in September, it resumed the coverage and gave a "sell" rating on the stock and a target price of $1.
Changing sentiments
At the beginning of the year, 35 analysts gave recommendations for Seadrill. Four analysts were bullish on the stock and gave "buy" recommendations. Over the past six months, this scenario has changed, and now there are no "buy" recommendations.
Article continues below advertisement
Why no "buy" for Seadrill?
Seadrill is having a tough time in this downturn. In the coming period, Seadrill is due to face many debt maturities. The company needs to either pay or refinance $400 million in debt by the end of the year, and there are more debt maturities on the way. $2 billion in notes are due in June 2017. Although the company has $1.3 billion in cash, it won't suffice for many quarters. The company is eating up its backlog at a much faster rate than it can replenish it. Its backlog for the second half of the year is only $650 million, or 37% of the revenue for the first half of the year.
A drastic revenue drop is inevitable for Seadrill. Customers are trying to terminate contracts for their convenience or reduce the day rates on existing contracts. With the offshore drilling industry in the doldrums, it's close to impossible that the company's backlog will pick up in the coming quarters. Next, we'll take a look at Wall Street analysts' earnings estimates for Seadrill.