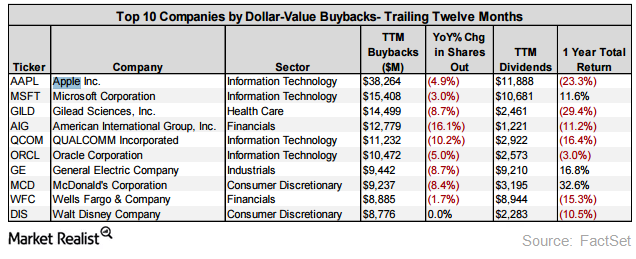 A Look at Salesforce's Cash Position in Fiscal 2Q17
By Anne Shields

Nov. 20 2020, Updated 11:45 a.m. ET
Salesforce's cash, debt, and cash flow position in fiscal 2Q17
In the prior part of the series, we discussed how Salesforce (CRM) has managed to expand its non-GAAP operating margins for nine straight quarters. We also discussed that though growth in its deferred and unbilled deferred revenues improved its sales pipeline, deferred revenue growth is slowing down. Now let's look at the company's cash, debt, and cash flow position in fiscal 2Q17.
As of July 31, 2016, Salesforce had cash, cash equivalents, and marketable securities worth ~$1.2 billion. Its total debt increased to $1.8 billion as compared to ~1.3 billion in 2Q16. Salesforce doesn't have any short-term debt.

Article continues below advertisement
Less dependence on debt is better, as it translates to lower interest payments, consequently leading to expansion of margins. Salesforce has had a history of reporting working capital deficit, which continued to expand in future quarters. In fiscal 2016, the company reported a deficit ~$1.3 billion, which expanded to ~$2.1 billion in fiscal 2Q17. All of these figures highlight the company's poor liquidity.
Unlike its peers, Salesforce is not likely to fund its dividends and share buybacks with debt
Though Salesforce's debt is on the rise, the company doesn't pay a dividend like cloud space peers Microsoft (MSFT), Oracle (ORCL), and IBM (IBM).
In 1Q16, among the top ten companies that spent the maximum on share buybacks, four were in the tech sector. Apple (AAPL) spent the maximum, followed by Microsoft (MSFT). Qualcomm and Oracle were the other two tech companies that made the top ten list.
Despite the technology sector being the only sector in the S&P 500 with more cash than debt per share in 2015, companies in this sector resort to bond issuance to borrow for dividends and buybacks because the majority of their cash is parked outside the US. This explains why Apple, which has significant cash reserves, raised $1.0 billion in Australian bonds (EWA) in June 2016. Similarly, despite having significant cash reserves, Microsoft resorted to debt to fund its latest and largest-ever acquisition of LinkedIn (LNKD).