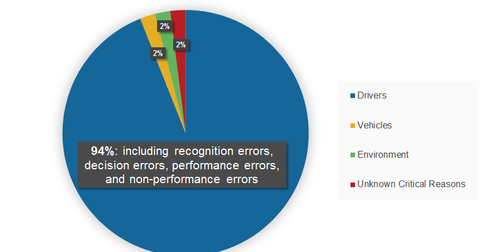 What a Safety Group Found about Autonomous Vehicles and Accidents
By Jitendra Parashar

Updated
Driverless cars and accidents
In this series, we've already looked at the various levels of automation as identified by SAE International and the NHTSA (National Highway Traffic Safety Administration). Currently, autonomous vehicles are still in their initial stages, but automakers and tech companies are promising to deliver high-level, full automation in the next few years.
Article continues below advertisement
Data supports autonomous vehicles
According to a study conducted by NHTSA, about 94% of road accidents are caused by human error. With autonomous vehicles, some expect a reduction in the number of these types of accidents.
In 2011, Nevada became the first state in the US to allow the testing of autonomous vehicles on public roads. This was followed by autonomous vehicle legislation in other states, including Florida, California, Louisiana, North Dakota, Tennessee, Utah, Washington, DC, and Michigan. These legislative moves have accelerated the development and testing of autonomous vehicles, and it will be interesting to see how automakers and tech companies could take advantage of such legislation.
Meanwhile, mainstream automakers (IYK) including General Motors (GM), Ford Motor (F), Fiat Chrysler Automobiles (FCAU), and Toyota Motor (TM) are actively participating in the race to build autonomous vehicles. Fully autonomous vehicles as defined by NHTSA, or Level 4 types, have a little while to go before receiving approval based on safety assessments, however.
Continue to the next part to learn what GM is doing to accelerate its development of autonomous vehicles.