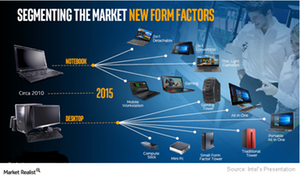 Is Intel Abandoning the PC Space to Focus on 5G?
By Puja Tayal

Updated
PC continues to be Intel's core business
In this series, we've seen that Intel (INTC) is shifting its focus away from PCs towards the data center and IoT (Internet of Things) spaces. However, PCs still generate more than 50% of the company's revenue.
Moreover, Intel commands around an 80% share in the PC processor market and competes with Advanced Micro Devices (AMD) in this space.
Article continues below advertisement
Intel's client computing enjoys strong profits
Intel already has a strong partnership in place with Microsoft (MSFT) and Hewlett-Packard (HPQ) in the PC space. Although revenue is falling for Intel's CCG (client computing group) due to falling PC sales, its profits are rising. In 2Q16, CCG's revenue fell 3% YoY (year-over-year) to $7.3 billion, while its operating profit rose 19% YoY to $1.9 billion.
Intel's PC technology drives innovation in other areas
A double-digit rise in profits for a business of such a large scale brings its own benefits. The scale of Intel's PC business drives the scale of its wafer capability. Moreover, PC processors provide a baseline for innovation in other products such as CPUs (central processing unit), controllers, graphics, and memory. Thus, PC technology remains a core technology in which Intel will continue to invest.
Intel invests cautiously in the PC space
Intel continues to invest in the PC space, but it has become more cautious and is targeting its spending in growth areas such as the two-in-one, gaming, education, and commercial spaces. With this, the company is looking to capitalize on the replacement cycle. Implementing this strategy, the company recently launched Kaby Lake, its third processor on the 14nm (nanometer) node.
Many analysts expected that Intel would delay the launch of Kaby Lake due to a fall in PC sales and a strong inventory of its predecessor Sky Lake. However, Intel has launched the new processor anyway, targeting high-end gamers as it looks to capitalize on the virtual reality trend.
While Intel moves toward its vision of 5G and IoT technology, it will continue to invest in the PC space.